ABOUT US


Mission Statement:

To reduce the overpopulation and suffering of dogs and cats through education and low-cost spay/neuter programs and to rescue, vet and place adoptable* dogs and cats into good permanent homes.
*Adoptable is defined as dogs and cats that pose no health or safety risk, which
  makes the animal unsuitable for placement as a pet.

NOT ALL RESCUES ARE ALIKE
Most of us who choose adoption through rescue want to give a good home to a formerly unwanted pet, to do something good for an animal in need, and this is a wonderful thing! Unfortunately, there are people out there calling themselves rescues who are, in fact, scam artists preying on the big hearts of those who want to adopt a rescue animal. We encourage people not to adopt from these groups because if they are no longer making a profit, they'll move on to something else and fewer animals will suffer. (Rescue groups never actually make a profit with our adoption fees. They don't even make a dent in our veterinary bills each month.)
Before adopting from any group, it is important to know how the animals are cared for and what the rescue group's policies are. You may also want to know if they are a legitimate 501(c)(3) non-profit organization. If a group is claiming they have a "PENDING" 501(c)(3), ascertain if the rescue honestly has a pending application with the IRS. Often, scammers know you won't look or question. Often, they don't even have a pending status; they are claiming it's pending to explain away why you can't find them as a legitimate charity listed anywhere.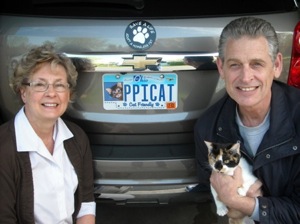 Planned Pethood has been a registered
501(c)(3) non-profit for over 30 years.
Click here to read about PPI's history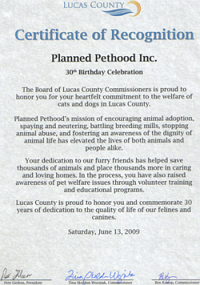 Here are some questions which can help you decide which groups you want to support:
Q: Are your volunteers held to a standard
     of performance, even though they are
     volunteers?
A: Reputable rescue groups will encourage
    and enforce a method in which rescue
    business is performed. Planned Pethood
    has every volunteer agree to a Code of
    Conduct.
    Planned Pethood, Inc. Code of Conduct
Q: Is follow up support available after the
     adoption?
A: Reputable rescue groups will offer training
    assistance and support. Planned Pethood
    has experienced trainers to help you (free of charge) if you have questions
    or need training guidance.
Q: Are the animals for adoption spayed/neutered?
A: Reputable rescues will not risk contributing to the overpopulation problem by
    adopting out breedable dogs or cats.
    ALL of our animals are spayed/neutered before being adopted. In addition,
    we offer low-cost spay & neuter opportunities and subsidies to make it
    affordable, sometimes free, for EVERYONE to be able to get their companion
    animals spayed and neutered.
Q: Are the animals for adoption up to date on medical care? Does the
     rescue euthanize animals whose medical needs cost more than
     "average" or do they treat all treatable ailments, no matter the cost?
A: All of Planned Pethood's pets are up to date on age-appropriate shots and
    flea and heartworm prevention before being offered for adoption. In addition,
    Planned Pethood's policy is to treat all medical ailments, regardless of cost,
    unless the treating vet feels there is nothing more that can be done. We do
    not refuse treatment to our animals based on cost of treatment or on the
    age of the animal. When we take in a dog or cat, we take that commitment
    seriously.
Q: Where do the animals come from? Are they local, imported from
     hundreds of miles away in Ohio, or even from out of state? Are they
     purchased from illegitimate sources, such as puppy mills (thereby
     perpetuating the existence of puppy mills)?
A: Planned Pethood makes it a priority to find homes for pets in our own
    backyard. Until there are no more unwanted pets in the Northwestern Ohio
    area, we will continue our policy of accepting only local animals. We place a
    priority on strays and dogs that are on death row in kill-shelters.

OFFICERS
Laurie Cantrell
PRESIDENT
Toledo-Lucas County Port Authority
Craig Jacobs
TREASURER
CPA/Business Planning Analyst
HCR ManorCare
Stefanie Stark
SECRETARY
Licensed Independant Social Worker
Mercy St. Vincent Medical Center - Pediatrics


BOARD OF DIRECTORS
Chrissa Liskai
New Accounts Representative
First Federal Bank
Douglas Kearns
Group General Manager
Yark Automotive Group
Barbara DiNardo
Marketing/Management Professor
Owens Community College
Shirley Moran
CPA/Retired Controller
Owens Community College
Susan Bedra
Financial Advisor
Ameriprise Financial
Carol Dunn
Founder
Center for Choice
Paul Hubbard
Consultant
Glacial Energy
Michelle Wasylecki
Financial Coach
United North
Theresa Grimes
Early Intervention Specialist
Lucas County Board of Developmental Disabilities


CONCILIARY
Dr. Kittsen McCumber, DVM
Owner
Animal Emergency & Critical Care


Organizational Chart
PPI 990
PPI W-9
A copy of our annual report is available upon request by emailing us at pets@plannedpethood.org.
---