Available Cats

All of our cats and kittens have been tested for FIV, FeLk and parasites (and treated, if needed). Our adoption fee includes those tests, spay/neuter, flea preventative and all age-appropriate shots (including Rabies).
Please understand the statements about this animal are based upon the foster home's evaluation of the animal. The animal might behave differently (negatively or positively) in your home. While the animal might be good with the current foster's dogs, cats, children, etc. it may not be with your animal(s) or children. The animal may be housebroken or litter trained in the home of the foster but my relapse in your home. The animal is represented to the public as it performs in the foster home and any statements made regarding the animal are conditional to that foster home setting. These interested in adopting should have read all information about the animal and understand they cannot claim they did not understand the facts about this animal as understood by Planned Pethood and/or the foster. Planned Pethood and vet(s) do our best to provide accurate age and breed of the animal, but sometimes they are educated guesses. Please understand that statements made regarding this animal are simply overviews and are not guaranteed. Your adoption fee is non-refundable for any reason.
STEPS FOR COMPLETING A CAT APPLICATION:

Browse our available cats.

Click on the "More Info" button at the bottom of the pet's picture you are interested in. This will provide you with
      each pet's detailed adoption information.

Click on the "Add to Cart" button and it will take you directly to the Adoption Application.

If you would like to adopt more than one pet, you only have to send in one application. Just send an email to
      ppiapplications@gmail.com and let us know which pet your original application was for and what other animals
      you are interested in.

Contact information for the foster is included in the biography so you may reach them directly.
Thank you for your interest in a rescue cat!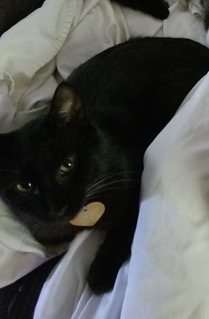 Hello! My name is Pete (nickname: Boogie-Man) and I am about 6 years old. I was found as a stray by my foster mom, and she took me home immediately because I am "lovable beyond words"! My foster mom nicknamed me Boggie-man because I've tried LOTS of antibiotics but for some reason I just can't get rid of all my boogers..ok, ok, they're really snot-rockets... and I sneeze a lot! So I take a very inexpensive, over the counter allergy pill called Loratidine and it helps me a little bit.
I also do some pretty cute stuff: I can actually stand on my back legs and reach up for a hug when I want one, or I have a super sweet head-butt that I do when I want to nuzzle (that's when I rub my face against yours, it means I love you)!
I am a very playful and energetic dude and I get along great with my foster siblings (kittens and adults cats). I have met a dog before and I liked him, I was just a little scared at first. I LOVE to play and cuddle...i'm actually not sure which I love more! Also, I sure do love toys!!
So, do I sound awesome or what!? If you're looking for an awesome cat that is a big love bug, who will "talk" to you, occasionally follow you around the house, sleeping buddy and best friend....HERE I AM! I can't wait to meet you!!If you are interested in meeting or adopting me, please contact Sue at 419-250-0846.

Special Notes:
Breed:
DSH Black
Sex:
Male
Age:
Adult
Likes Cats:
Yes
Likes Dogs:
Yes
Litter Trained:
Yes
Needs a Pal:
No
Likes kids under 5:
Yes
Likes kids over 5:
Yes
Declawed:
No
Social:
Yes
Foster Name:
Sue N.
Foster #:
419-250-0846
PPI#:
090617.1
Add Date:
09/06/2017
Last Updated:
Adopt Date:
05/19/2018