Available Cats

All of our cats and kittens have been tested for FIV, FeLk and parasites (and treated, if needed). Our adoption fee includes those tests, spay/neuter, flea preventative and all age-appropriate shots (including Rabies).
Please understand the statements about this animal are based upon the foster home's evaluation of the animal. The animal might behave differently (negatively or positively) in your home. While the animal might be good with the current foster's dogs, cats, children, etc. it may not be with your animal(s) or children. The animal may be housebroken or litter trained in the home of the foster but my relapse in your home. The animal is represented to the public as it performs in the foster home and any statements made regarding the animal are conditional to that foster home setting. These interested in adopting should have read all information about the animal and understand they cannot claim they did not understand the facts about this animal as understood by Planned Pethood and/or the foster. Planned Pethood and vet(s) do our best to provide accurate age and breed of the animal, but sometimes they are educated guesses. Please understand that statements made regarding this animal are simply overviews and are not guaranteed. Your adoption fee is non-refundable for any reason.
STEPS FOR COMPLETING A CAT APPLICATION:

Browse our available cats.

Click on the "More Info" button at the bottom of the pet's picture you are interested in. This will provide you with
      each pet's detailed adoption information.

Click on the "Add to Cart" button and it will take you directly to the Adoption Application.

If you would like to adopt more than one pet, you only have to send in one application. Just send an email to
      ppiapplications@gmail.com and let us know which pet your original application was for and what other animals
      you are interested in.

Contact information for the foster is included in the biography so you may reach them directly.
Thank you for your interest in a rescue cat!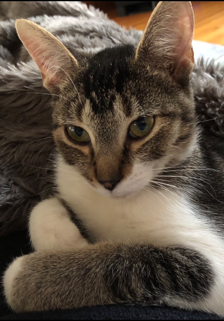 Hi, I'm Rain the Kitten! I was born around October, 2017. I was found wandering into a feral colony, and the caretakers thought I was way too friendly to be left outside...boy, were they ever right!

I have super short hair and it's really soft and smooth. I also have super big ears, but my head is finally growing into them!! I love to follow my foster parents around the house, and I LOVE to cuddle with them! If you allow me to, I'm more than happy to keep you company while you sleep, too! Like I said, I love cuddling! I also love playing with other kittens and cats. We chase each other around the house!

It took me a day to adjust to my new foster home, so all I need when you take me home is a little space for the first day to get used to the smells and sounds. In no time, I'll be by your side!

If you would like to meet or adopt me, it would be awesome if you called Lynn at 419-346-0710. She can get you in touch with my foster family to learn more about me!
Special Notes:
Breed:
DSH Tabby
Sex:
Male
Age:
Kitten
Likes Cats:
Yes
Likes Dogs:
Unknown
Litter Trained:
Yes
Needs a Pal:
No
Likes kids under 5:
Unknown
Likes kids over 5:
Yes
Declawed:
No
Social:
Yes
Foster Name:
Kristine
Foster #:
419-346-0710
PPI#:
011818.1
Add Date:
01/18/2018
Last Updated:
Adopt Date:
02/24/2018