FEATURED DOGS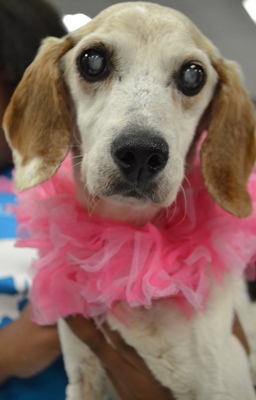 Gerti
Gerti

Gerti is a silver citizen beagle. We guess her to be about 12 - 14 yrs old, weighing about 16.5 pounds. But she could be younger. It appears as though her diabetes had gone untreated for a while and that lead to her blindness. We have her insulin under control now. She is gaining weight and feeling much better now due to the TLC she is getting from Planned Pethood. If you like cats but want a dog- Gerti is your gal. You never hear her bark or even know she's there. But she knows where you are because she chooses to sleep in whatever room you are in. Geri has free roam of the house. She does well with the other dogs and they help her navigate the house. She would be fine with well behaved kids who will not be cruel to Gerti. When you are old and grey, we hope people treat you well and with dignity. That's what we want for Gerti in her twilight years. Please consider giving this sweet gal a nice home for her to live out her remaining years.
Thank you to the following individuals who have donated to Gerti's Care:
If you want to help Gerti (or any of our other dogs receiving medical care) you can make a donation to her vet bill by clicking on the donate button below.
Please also help us by sharing our needs with your friends, family and co-workers.
---