Information For Those Applying For A Pit Bull Type Dog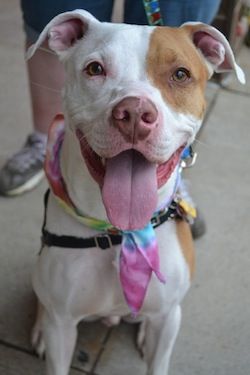 What to consider before adopting a Pit Bull type dog:
If you have applied for one of our Pit Bull dogs or puppies... Congratulations! You have taken the first step in our adoption process.
Those who love Pit Bull type dogs should adhere to local laws as they apply to the specific breed of your dog. Planned Pethood has put together this helpful information for your reference and knowledge.
The Ohio Revised Code section 955.22 has been changed from "pit bull and pit bull type dogs" to "dangerous dog" as it applies to its behavior.
Toledo Municipal Code 505.14: Toledo law specific to Pit Bulls and Pit Bull mixed dogs has been repealed as of a vote by Toledo City Council on October 12, 2010.
In its place, Council has enacted a new ordinance (ORD 389.10) outlining special laws beyond those of the Ohio Revised code for any dog within the Toledo city limits. These laws cover items like barking, tethering dogs outside, leaving a dog alone and how a dog is defined as a public threat to safety. The ordinance also outlines penalties, broken down into different levels of threat. You can read the Toledo ORD 389.10 by clicking here.
Because certain breeds of dogs are stereotyped by the general public, extra precaution must be taken to ensure that the dogs are always presented in the best possible way. In order to accomplish this, it is recommended that we be careful of the following:
Do not play games with puppies that make them appear to be aggressive or bring out-growling and dominant type behaviors. For example: tug of war with rope toys, pulling puppies into the air with rope type toys, grabbing toys that are in their mouths and shaking them back and forth, etc.


Handle the puppies frequently to socialize them and correct all nipping behaviors with a firm "no bite" command.


Socialize the puppies with resident dogs as much as possible and supervise all interactions between puppies and resident dogs, correct dominant or aggressive behaviors immediately! What may appear to be cute at the puppy stage can be intimidating and scary as the puppy grows.

Many insurance companies will not provide coverage for a household with dogs of a certain breed. Below are some companies that provide coverage regardless of the breed:
FARMERS INSURANCE
Contact: Terry Fowl
Phone: 937-283-8989

THE OHIO INSURANCE EXCHANGE
112 East Main Street
Lancaster, OH 43130
Phone: 1-800-473-1215

WILLIAMS INSURANCE
(Local Farmers Insurance)
Phone: 330-453-9440

LESTER KALMANSON AGENCY
P.O. Box 940008
235 South Maitland Avenue
Maitland, FL 32794-0008
Phone: 407-645-5000
FAX: 407-645-2810


For more information on dogs considered to be Pit Bull
breeds, the following resources have excellent information: