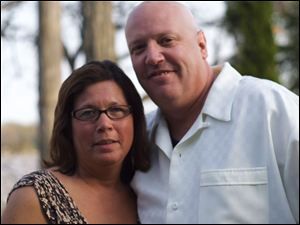 PAW Hurrah!, a celebration of saving dogs and cats of our community, was last month at Toledo Country Club. Noted this year as 10 years of love unleashed, the event to benefit Planned Pethood was presented by Stautzenberger College and SylvaniaVET.
The grand poo paw sponsor was St. Francis Veterinary Hospital, but there were donors too numerous to mention.
Kelly Broadway, who donated her time and talent, entertained the audience with song.
Gourmet dining stations with mac and cheese complete with all the trimmings, a carving station that included corned beef, a salad station, and more sated appetites. Special Frisky Kitty, Dirty Dog, and Purrr-fect martinis quenched thirsts. Satisfying the sweet tooth was anniversary cake.
A proclamation from Toledo City Council came from Rob Ludeman.
Craig Herschel of Signature Associates came to the rescue as a substitute auctioneer, when the regular auctioneer backed out at the last minute.
David and Rhonda Fairclough at Paw Hurrah!
David Fairclough, who was there with his wife, Rhonda, donated a Baume & Mercier stainless and diamond watch. Eric Hillenbrand of 20 North Gallery and Pam Weirauch of Pam's Corner donated an Evening at the Gallery package, for which Kristin Kiser and Andrew Newby had the winning bid. Kevin Dean, determined to win one of the live auction items, ended up with the Pepsi Mud Hens Suite donated by Mike Collins.
A battle erupted over an iron sculpture of a dog and cat created by Jerry Kmtorka. Dr. Michael Reece of Anthony Wayne Animal Hospital won the war when he told Sam Rayner that he was going to place it in front of the clinic.
In the audience was Carol Dunn, a founder and board president of Planned Pethood, and many officers and directors, including Kory Kaintz of HCR Manor Care, Laurel Cantrell of Toledo-Lucas County Port Authority, and Doug Kearns of Yark Automotive.
Also among the 225 guests were Larry and Lou Pratt of Wauseon, Nancy Delikat, Hunt and Cherie Sears, Jim and Jeanne Schwerkoske, Kris and Monica Kelley, Rose and Kevin Ullery of Vito's Pizza, Arlene Singer and Jack Wilson who recently adopted two St. Bernards through Planned Pethood, and Tim and Tammy Sherman of the Harley dealerships.
Paw Hurrah! event chairmen Merin
Schrinel, Doy DiNardo, and Jen Frey.
Event chairmen Doy DiNardo, Jen Frey, and Merin Schrinel were assisted by Kim Hillyer, Barb DiNardo, Liz Gladieux, Jen Herbert, Colleen Kane, Janna Lake, Christy Lease, Gayle Mayak and daughter Rachel, 16, Nikki Morey, and Robin Rayner.
More than $40,000 was netted.
THE 20TH annual Central City Ministry Urban All-American Celebration was May 2 at the Pinnacle with honorary chairman Andrea Price, president and CEO of Mercy Health Partners, the presenting sponsor.
Bishop Robert Donnelly and Paul Kraus at the 20th annual
Central City Ministry Urban All-American Celebration.
The event raised approximately $55,000, which benefits two elementary school campuses: Rosary Cathedral and Queen of Apostles that provide strong academics, structure, and faith formation to 440 children.
Keynote speaker Rev. James Gartland, president of Cristo Rey Jesuit High School in Chicago, shared his story about creating opportunities against all odds. His school, which serves Mexican immigrant families in one of the poorest neighborhoods in Chicago, became known for its innovative curriculum and creative financing.
Honorees included Matthew Lewandowski of Lewandowski Engineers and Felica Crockette Clark of the Metroparks of the Toledo Area, both successful graduates of CCMT schools. The Rev. Martin Donnelly, pastor of Blessed Sacrament Parish, received the CCMT Service Award -- and a standing ovation.
Two eighth-grade students, John Bueter and Gabrielle Skibinski, read their heartfelt essays on the importance of their CCMT education.
Keyante and Keyaree White, 8th graders from
Central City Ministry Rosary Cathedral Campus.
Among the nearly 450 attendees were Dick and Fran Anderson, Ed and Audrey Durivage, John and Yolanda Szuch, Bruce Davis, Tony and Debbie Frogameni, Jim and Nancy Bingle, Kate Savage with daughters Kelly and Patti, Paul Kraus, Dan and Mary DiSalle, Dick and Kathy Faist, Marty and Kathy Holmes, Len and Pat Bullard, Bill and Cathy Carroll, Paul and Elaine Raglow, Dale Seymour and daughter Shelly, Tom and Karen Dillon, Rick Brunner, Mike and Julie Sofo, and Gary and Cheryl Thieman of Medical Mutual of Ohio, reception sponsors.
Also seen were presidents from Toledo Catholic high schools of Notre Dame, St. Ursula, St. John's, Cardinal Stritch, and Central Catholic.
Special thanks go to John and Teri Payak, event chairmen.
Barbara Hendel is The Blade's society editor.
Contact Barbara Hendel at bhendel@theblade.com or 419-724-6124