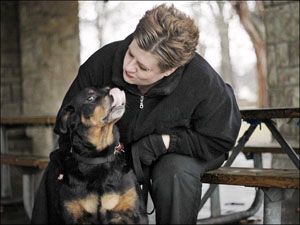 She survived abandonment, vicious chemical burns, and weeks of surgery, but ultimately Darby the Rottweiler's second chance at a long and happy life was not to be.
Darby, whose story drew national attention after she was rescued by the Toledo-area organization Planned Pethood last summer, succumbed to lethal injection earlier this month after veterinarians found cancer of the spleen and liver. She was about 7 years old.
Planned Pethood took Darby in a year ago after a "good Samaritan" found her wandering near Westfield Franklin Park mall with a festering, foot-long acid burn on her back. The first, second, and third-degree burns had reached into her muscle, and she underwent five weeks of laser surgery and treatment with special wraps to recover. Her skin remained permanently furless and scarred.
Veterinarians concluded the burn probably was intentionally caused, although a perpetrator was never found.
Darby's story garnered both local and national attention. She became an "ambassadog" for Planned Pethood, attending area adoption events and educational talks, where her presence brought to life the plight of rescued animals and the need to combat animal cruelty.
This year, Darby's tale of pain and triumph earned first place in the Iams Home 4 the Holidays Animal Adoption Story Award, sponsored by the Helen Woodward Animal Center of San Diego. Planned Pethood received $500 from the award.
Since her rescue, Darby lived with South Toledo resident Mona Guinaugh, who fostered the dog and later adopted her.
Ms. Guinaugh said that despite her ordeal, Darby was a friendly, loving dog who would sit on people's feet when she met them so they could pet her.
She was so popular that Ms. Guinaugh set up a Facebook page for her.
The Rottweiler was on the cusp of reaching her first anniversary in her new home when Ms. Guinaugh noticed over the Memorial Day weekend that Darby had become lethargic and refused to eat.
After taking her to SylvaniaVET animal hospital, Mrs. Guinaugh was informed of the dog's cancer.
She consulted with Planned Pethood's executive director, Nikki Morey, and decided euthanasia was the most humane option for Darby. The cancer was incurable, and any operation to remove the tumor would have left her in severe pain, Ms. Guinaugh said.
"There was really nothing that could be done," she explained sadly. "I could look in her eyes and the glimmer wasn't there anymore."
Ms. Morey lamented Darby's short life with Ms. Guinaugh but said her story will continue to inspire hope for other dogs rescued from abuse and neglect.
"People in rescue -- it's hard to bring us down. The next animal we rescue might be in the name of Darby and because Darby reignited some passion," she said. "We've never experienced a dog that's touched so many lives."
Darby's body was cremated and the ashes placed in an engraved wooden box that Ms. Guinaugh said she will keep next to a picture of the dog in her home.
Contact Claudia Boyd-Barrett cbarrett@theblade.com or 419-724-6272