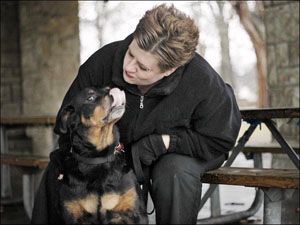 The painful story of Darby the dog could soon be awarded for its happy ending.
The black and tan female Rottweiler was found as a stray last summer wandering near Westfield Franklin Park mall with a festering, foot-long chemical burn on her back.
A "good Samaritan" picked her up and contacted Planned Pethood Inc., a Toledo-area pet rescue, which took Darby in and authorized emergency veterinary care.
No one had seen a burn quite like this one on a dog of Darby's size. And no one knew how she got it or who might have done such a violent act to her.
"It was absolutely terrible," recalled Dr. John Dillon, owner of St. Francis Veterinary Hospital in Sylvania, who rushed to treat the first, second, and third-degree burns, which had reached into muscle.
Darby survived the ordeal, and is now one of four finalists in a national contest judging the "most heartwarming animal adoption story."
If she finishes in first place in the Iams Home 4 the Holidays Animal Adoption Story Award, sponsored by the Helen Woodward Animal Center of San Diego, the local Planned Pethood group will receive $500.
While Darby managed to dodge serious infection from her chemical burn, she faced a lengthy and complex journey to recovery. She was placed with a Planned Pethood foster home and given five weeks of laser treatments at SylvaniaVET to help regrow her skin. The skin had entirely grown back after 4 1/2-months, but the area where the chemicals likely hit her skin is albino and hairless.
"She is I would say 100 percent recovered, with the exception of hair that will never grow back," said Nikki Morey, executive director of Planned Pethood.
The dog's foster mother, Mona Guinaugh of South Toledo, is still astonished by how trusting and people-loving Darby is, despite having undergone such a traumatic experience. Miss Guinaugh couldn't imagine parting with such a great dog when the foster period ended and was first in line to adopt her.
"She is such a wonderful dog and so gentle," Miss Guinaugh said.
Voting began Tuesday in the adoption story contest and continues through March 21.
The ballot is online at helenwoodwardanimalcenter.wordpress.com .