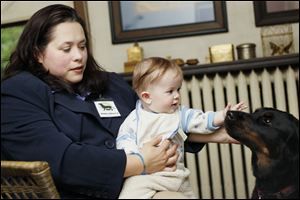 There are two things Carol Dunn always says when she meets someone out walking a dog.
"Nice dog," the Old West End resident recites. Then, she continues: "Is he fixed?"
Ms. Dunn is the president and co-founder of the Toledo-based animal rescue group Planned Pethood. After three decades of working to reduce the number of unwanted pets in the city, she and her fellow organizers are convinced that the only real way to help the region's dogs and cats is to stop as many as possible from reproducing.
As long as uncontrolled breeding is allowed to continue, they say, more unwanted pets will be roaming the streets, filling up the dog pound, and waiting at rescue centers for a home.
And, organizers maintain, no matter how hard groups such as Planned Pethood work to find each pet a home, there will always be more dogs, puppies, kittens, and cats than people willing to adopt them.
"You can't adopt your way out of the problem," Nikki Morey, executive director of Planned Pethood, said. "The only way to fix the problem is to spay/neuter."
Through a network of more than 100 volunteers and another 100 foster homes, Planned Pethood works hard to rehabilitate and find new owners for abandoned and unwanted pets in the Toledo area.
Yet one of the nonprofit group's most fervent goals is to spay or neuter every animal it can. The group does this through a comprehensive strategy of outreach, education, and cost reduction.
Carol Dunn has the attention of her three dogs. Reni, left, Rudy Too Toot,
and Gordon, and Buddy Beagle, a dog she is fostering. The group works to
find pets homes, but its main goal is to stop uncontrolled breeding with
spay and neutering education and outreach.
THE BLADE/ANDY MORRISON
To begin with, the organization offers a $10 membership that allows anyone who joins access to low-cost spay and neutering services through a network of participating veterinarians. Members pay between $28 and $72 per spay or neuter surgery, depending on the gender and size of the animal and whether it's a dog or cat. The regular cost of the surgery can be as much as $300, Ms. Dunn said, so the membership prices are far more affordable.
In addition, each dog and cat taken in by Planned Pethood is spayed or neutered before it can be adopted, a common practice among rescue groups and control agencies. This ensures the animals won't produce more offspring that could end up in their parents' predicament, Ms. Morey explained.
Planned Pethood also runs a vast outreach effort, sending groups of volunteers out to different Toledo locations, such as mobile-home parks and apartment buildings, where they go door to door handing out flyers and talking to pet owners about the importance of fixing their animals.
Many of the neighborhoods they target are low-income, and volunteers assist pet owners if they do not have the financial means or transportation available to take their animals for surgery, Ms. Morey said.
But it's the group's "Litter Patrol" program that takes spay and neuter outreach to the next level.
Planned Pethood volunteers - the organization has all volunteers except for Ms. Morey, who works part time - scour advertisements in local papers and search Internet sites such as Craigslist to find people selling or giving away puppies and kittens. They contact the pet owners and offer to spay or neuter the entire litter at no cost and to take the animals into foster care if space is available.
They also offer to spay or neuter all the adult animals in the house at a reduced cost, or, based on financial need, free. Participation in the program is voluntary, but it's effective, Ms. Morey said.
"We're just trying to help out by stopping intact animals going out to new homes and making another litter of unwanted animals," she said.
Their efforts are applauded by Humane Ohio, a low-cost spay or neuter clinic in Toledo that partners with Planned Pethood and other organizations to help provide affordable surgeries for pets and promote sterilization for dogs and cats.
Carol Dunn pets her dog Reni and Buddy Beagle, the dog she fosters, as Gordon,
center, and Rudy Too Toot, right, watch in the comfort of their Old West End home.
Although the main goal is to control pet population, the group takes care of
strays and abused animals.
THE BLADE/ANDY MORRISON
"So many times the groups all kind of bicker. Everyone's trying to help the animals, but not everybody agrees with the way to go about it," Humane Ohio spokesman Jill Borkowski said. "But spay/neuter is the one thing that everybody seems to agree on. Spay/neuter is the only way to reduce pet overpopulation in our community."
While they continue to work for the day when every pet born is a wanted pet, Planned Pethood's organizers also tend to the situation at hand, caring for unwanted dogs and cats in foster homes and putting them up for adoption.
The organization - which subsists almost entirely on donations - does not run its own building, preferring the intimacy and cost-effectiveness of a family home. Each foster parent receives free training and advice, medical care for the animal, and sometimes free pet food.
Most of the dogs come from the Lucas County pound and are at risk of being euthanized. If there is space, dogs are accepted from pounds in neighboring counties. The organization also accepts strays. It does not refuse animals with medical problems and accepts all breeds of dogs, including "pit-bull" types, but declines those that fail a standard behavior evaluation.
Ms. Dunn, who is a foster parent herself, said dogs and cats have been brought in with festering wounds, broken limbs, and evidence of torture.
One dog arrived with injuries that suggested acid had been poured over it, Ms. Dunn said.
"We've brought some animals through some horrendous situations," she said. "You just do what you have to do."
Buddy Beagle gets a little attention from Ms. Dunn, who says fostering
pets in homes is more intimate as well as cost-effective.
THE BLADE/ANDY MORRISON
Having pets in a real home is "infinitely better" than a shelter, the president said, because it is a more comfortable environment for the animal and allows the foster parent to more accurately assess the creature's behavior and correct any problems with consistency.
The practice also allows potential owners to see how the dog or cat acts in a regular family setting.
Although rare, there are occasions when Planned Pethood decides to put a dog down because it is too aggressive, the organizers said.
Such a decision is reached only after the dog has been assessed by a veterinarian and a professional trainer - and if necessary, a second trainer - and after the dog has been given a significant amount of time to show improvement.
"Sometimes, though, the dog is so far gone that we're not able to get the behavior modified," Ms. Morey said. "That's a safety risk. Not only to the people who would potentially adopt, but also to our foster homes."
Unfortunately, because of sheer numbers, Planned Pethood can't accommodate every dog or cat in need. But Ms. Dunn said she is less reluctant these days to send people with strays or unwanted dogs to the Lucas County dog pound.
She said that option was unthinkable in the days of former dog warden Tom Skeldon, who destroyed animals at a much-condemned rate.
Under the new warden, Julie Lyle, Ms. Dunn said, she's seen some impressive changes. She said Ms. Lyle has made the warden's office more customer-friendly and has made a concerted effort to reach out to area rescue groups to help find homes for the animals in her care.
"Things still need to get better, but they sure are moving in the right direction. Boy, are they ever," Ms. Dunn said.
"The changes there are so dramatic, [Ms. Lyle] certainly has my support."
Contact Claudia Boyd-Barrett cbarrett@theblade.com or 419-724-6272.