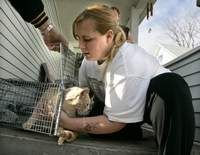 They curl up under porches. They hunt rats. They have no permanent homes.
Thousands of them. Cats, cats, and more cats.
In South Toledo, free-roaming cats are being trapped; spayed or neutered and vaccinated, and then returned to their neighborhoods as part of a two-year project conducted by Humane Ohio.
A nonprofit agency that offers low-cost spay-neuter services to pet owners in northwest Ohio and southeast Michigan, Humane Ohio has received grants from two foundations to help reduce the reproduction of free-roaming cats.
Trapping efforts are winding down as winter approaches, but the project is to resume in February in time for kitten season.
On this chilly afternoon, a buff-colored cat named Buddy, being returned to his haunts after he was neutered, meows loudly from a cage on the front porch of Angela and Daniel Sandmann's home in South Toledo.
When the cage door opens, Buddy finds quick comfort in the arms of Mrs. Sandmann, a caretaker of free-roaming cats. Soon, though, the skittish cat scampers away. He won't go far, Mrs. Sandmann said, noting the cat would be back on the porch at feeding time.
In recent weeks three free-roaming cats have sought shelter in banana boxes, covered with a blanket, on the Sandmanns' porch, but now the animals have their own homemade shelter filled with straw.
Humane Ohio volunteer Rick Cole delivered the wooden box to the Sandmanns when he delivered Buddy back to the neighborhood.
Mr. Cole of Perrysburg and other volunteers assist Tammy Herman of Oregon, Humane Ohio' free-roaming cat coordinator. "It is rewarding work," Mrs. Herman said. "We're saving so many cats' lives."
Since the project was launched in April, about 1,050 free-roaming cats in the 43609 ZIP Code target area have been trapped and then spayed or neutered and vaccinated. Of those, 950 were returned to the neighborhoods where they had been living. Most of those were feral cats.
About 100 friendly stray cats and kittens were adopted into "great homes" through partnerships with Planned Pethood and other adoption programs, Mrs. Herman said.
Free-roaming cats include feral and stray cats. Domestic long hairs and short hairs. Tortoise. Calico. Tiger. Gray, black, brown.
Ages vary; typically, traps capture more male than female cats.
Feral cats typically aren't accepted into adoption programs, said Jill Borkowski, marketing manager for Humane Ohio, 3131 Tremainsville Rd.
Born on the streets, feral cats are wild creatures. Strays live on the streets after being abandoned by their owners or after becoming lost, and often those cats are friendly, she said.
Project information is distributed by Mrs. Herman and volunteers who drop off fliers and talk to residents.
"We let everyone know about the program we are doing," she said.
Traps are baited with what Mrs. Herman describes as "good food," a combination of canned cat foods. Sometimes, for cats leery of getting caught, Humane Ohio serves sardines, tuna, or mackerel. "We don't smell too good at the end of the day," Mrs. Herman said, but that's OK. "We know what we're doing is going to make a very big difference."
Winter is a tough time for free-roaming cats. Water dishes freeze. Food and warm shelter might be scarce.
Humane Ohio accepts donations of igloo-style dog houses and large, sturdy plastic containers that can be insulated and converted into cat shelters. Plywood, paint, and other supplies to make shelters are welcomed donations as well. Cat houses are distributed to caretakers.
Some caretakers feed two free-roaming cats; others feed 10 or more, Mrs. Herman said. "They are a lot of caring people out there. They love cats. They feel for them. Some caretakers name them, and when a cat is missing, they know."
Mrs. Sandmann, who cares for free-roaming Billy Bob and Momma as well as Buddy, has worked with Humane Ohio to "fix" five cats. When she moves a few blocks away early in 2011, she plans to round up the trio and take them with her. She has three indoor cats, including one from a litter of kittens born outdoors in the spring. A litter mate now lives with Mrs. Sandmann's nephew.
Mr. Sandmann says cats are such a part of the family that their dog Precious thinks he's a feline, not a canine.
Some caretakers like having cats around for rodent control, Mrs. Herman said. "They say they would rather have cats than mice or rats."
Not everyone is a cat lover. Neighbors who complain about free-roaming cats are given literature about how to deal with the unwanted animals, Ms. Herman said, such as scattering lemon or orange peels, cayenne pepper, or coffee grounds.
Cats are territorial animals. If established cats are removed from a neighborhood, other cats will move in, especially if food is plentiful. Returning cats to their neighborhoods keeps invaders out, and it helps reduce the number of kittens.
The 43609 ZIP Code was selected for the project because statistics from animal shelters and rescue groups showed that the largest number of cats surrendered come from there, but free-roaming cats isn't a one-area problem. Humane Ohio hopes to secure grant money to move on to other locations.
"Every other neighborhood in northwestern Ohio and southeastern Michigan has cat overpopulation," Mrs. Borkowski said.
It could take until the end of 2011 to reach the project goal to spay-neuter and vaccinate 2,600 free-roaming cats at no charge to residents.
Female cats can have as many as three litters a year (average four kittens per litter) and can breed as young as four months old. "You can see how the cat population can get out of control very quickly," Mrs. Borkowski said.
Humane Ohio's project means hundreds of unwanted litters have been prevented, she said, noting overpopulation is a problem created by humans who let their pets roam outdoors and by people who move and leave their cats behind. "The cats do what comes naturally to them. They breed," she said.
The only way to curb the overpopulation is through spay/neuter programs and responsible pet ownership, she said.