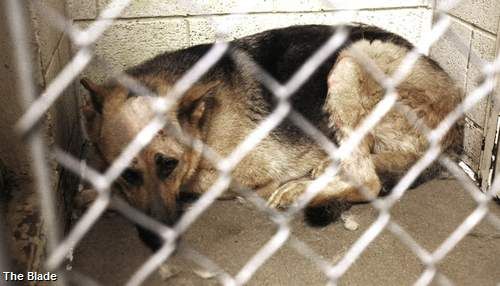 From Sylvania to Alaska, dozens of dog lovers have expressed their support for an East Toledo German shepherd named Sarge who was shot six times in a cage last week and survived.
Several well-wishers have even offered him their loving homes.
"I have plenty of room and a big barn," said Alana Yoder, who lives outside Dayton and read about Sarge's story on the Internet.
Yet those wishing to liberate the plucky pooch from the Lucas County pound where he's recovering may have to go through an intermediary, such as a rescue group.
County Dog Warden Julie Lyle said Thursday that Sarge is ineligible for direct adoption from the Lucas County pound because he has a record of biting.
"I don't see any situation in which I would be placing an adult, biting dog into a home directly from us," Ms. Lyle said.
Paperwork on file with the warden says that on July 1, Sarge allegedly bit both his owner and the owner's girlfriend. The bites were reported to the Toledo-Lucas County Health Department by M ercy St. Charles Hospital, where the girlfriend sought treatment for bites on her right arm, leg, and buttocks.
Eight days later on July 9, owner Lawrence Mick, 57, of 631 Federal St., and a friend, Adam Collins, 35, of 317 River Place, are accused of having taken turns shooting the captive dog outside the Federal Street house. Neighbors recall hearing the animal howl in pain.
Sarge amazingly survived the six 25-caliber bullet wounds in his head and chest, and is recovering under Ms. Lyle's care at the pound. Toledo police arrested both men for animal cruelty, among other charges.
As news spread of Sarge's ordeal, dozens of people made phone calls and wrote e-mails to inquire about his future. But Ms. Lyle said that a direct adoption from her office won't happen.
Sarge is being held at the pound for the minimum 14 business days required by state law for licensed dogs. When that period is up at month's end, Ms. Lyle said she may temperament-test him to see if he shows aggressive tendencies. If his behavior is acceptable, he could then leave the pound via transfer to a rescue group.
Still, Ms. Lyle said it's too early to make promises about when or how Sarge might leave the pound, "because if he's considered a public-safety threat, we won't be in that situation — we will be euthanizing him."
Ms. Yoder, whose police officer husband trains K-9 dogs, said she would love to bring Sarge to their 15-acre homestead in Xenia Township outside of Dayton. She said she called the dog warden's office Wednesday and was disappointed to learn that even someone like herself, who is aware of Sarge's past and willing to accept liability, can't offer him a home.
"I'm hoping against hope that they don't put the seventh bullet in him," she said.
Nikki Morey, executive director of Planned Pethood Inc., a Toledo-area rescue group, said her group would need to know more about Sarge's temperament and the July 1 bites before deciding whether to seek his transfer from the pound.
"If he's got a bite history then we have a liability for ourselves, because if we get sued we're done," she said.
John Dinon, executive director of the Toledo Area Humane Society, said that by policy they don't adopt out dogs with bite histories to the public.
"As much as we would like to help Sarge, I don't think we would be able to rehome him," he said.
Mick's girlfriend, Melinda Perry, 51, told authorities that Sarge attacked her at home unprovoked as she sat in a chair. The dog bit her extremities as she raised her arm to guard her face. Mick was bitten as he tried to pull the dog off her, according to the report.
A woman who answered Ms. Perry's phone yesterday hung up on a reporter.
One of Sarge's original owners, Mario Kiezi, 20, of Point Place, was surprised by the purported circumstances of the July 1 bites.
"As a previous owner, I know Sarge would never bite a woman unless provoked," Mr. Kiezi said in an interview. "He generally was a pretty friendly dog."
Mr. Kiezi said his family got the dog as a pup from a Sandusky breeder about 3½ years ago and named him Sarge. He was very popular at his family's Navarre Carryout in Oregon, where customers often brought him treats.
As Sarge grew older, he received training in obedience and other skills that he could use at the store.
"We had him trained on a special word if he ever needed to attack," Mr. Kiezi said, "but we never really used it."
Mr. Kiezi said it was a sad day when they returned Sarge to the breeder about a year ago as three members of his family were expecting children. "We had a house filled with babies and we didn't want to take a chance with babies around," he said.
Mick has been charged with cruelty to animals, discharging a firearm, inducing panic, obstructing official business, and having weapons after he had been convicted on drug charges.
He is being held at the Lucas County jail in lieu of a $25,000 bond and is to appear Monday before Toledo Municipal Judge Timothy Kuhlman.
Mr. Collins pleaded no contest in Toledo Municipal Court and was found guilty of cruelty to animals, inducing panic, giving false information to a police officer, and discharging a firearm. He was released on his own recognizance and is scheduled to appear in court July 21.