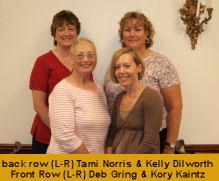 Planned Pethood of Northwest Ohio announced the appointment of four
members to its board for four-year terms.
Kory Kaintz also will serve as the organization's treasurer. She has bookkeeping experience in the private and public sectors, and has a master's degree in organizational leadership with a specialization in financial software development.
Tami Norris is a computer training coordinator for the work force development division of Northwest State Community College near Archbold, Ohio.
She holds an MBA from the University of Toledo, where she also received a bachelor's degree in education.
Kelly Dilworth is the alumni affairs and annual fund officer at Lourdes College. She has been a dog foster parent for Planned Pethood since April, 2007.
Deborah Gring is a registered nurse who has worked at St. Luke's Hospital for 34 years.