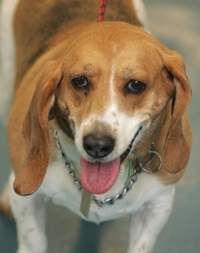 The recent killing of a once-gentle Basset hound and Beagle mix at the Lucas County dog pound is raising uncomfortable questions about the local commitment to reducing unnecessary euthanasia.
The unlicensed female arrived at the pound with painted nails on Oct. 26 after being found by dog warden deputies along Lambert Drive in West Toledo. Pound staff were impressed by the dog's agreeable temperament. They named her Dolly, and placed her in the pound's adoption area on Nov. 1.
Then she waited. Her photo appeared in the newspaper and on the Internet. But nobody came by to adopt her. So Dolly waited some more.
For five weeks, she sat in her metal cage at the dog pound, ready for anyone to give her a chance at a new home. The savior never came.
Lucas County Dog Warden Julie Lyle said that Dolly lunged at her from inside her cage on Nov. 3, a clear sign of the behavior deterioration common after a long stay in a stressful kennel environment.
"I walked through adoption one day and she was charging at the kennel attempting to bite me," Ms. Lyle said. "And I pulled her and we put her in a different area. We took a look at her and decided that her behavior at this point was not safe to put her in public.
"At that point, we don't have a lot of options," the dog warden said.
For Ms. Lyle, the option left was to kill Dolly by lethal injection, place her body in a plastic bag, and stack her in the freezer at the pound with the dozens of other dogs killed each week at the pound.
The bodies are then transported to the city's landfill, where they are dumped with people's trash.
Dolly became one of seven dogs killed on Tuesday at the county pound. Records show that between Wednesday and Thursday, the dog warden killed 19 more dogs.
Yet interviews suggest that Dolly may not have had to die.
The Toledo Area Humane Society typically accepts dozens of unadopted dogs a month from the dog warden. John Dinon, the society's executive director, said Thursday that his staff was never made aware of the Basset hound and Beagle mix languishing at the pound.
"We neither were offered or had any discussions about that individual dog," Mr. Dinon said. If pound staff had notified the society during week two, three, or four of Dolly's confinement, before kennel life had corrupted the dog's behavior, "We would have made it a priority to bring it in."
"We are accepting pretty much all of the dogs we're offered from the dog warden," Mr. Dinon said, adding that if the society doesn't have immediate space for a dog, it will take the dog the following week.
This latest killing incident at the dog warden's office follows months of increased adoptions and decreased killings under the leadership of Ms. Lyle. Her predecessor, former warden Tom Skeldon, was hounded from office in late 2009 amid criticism that he killed too many dogs.
"There has been a lot of progress, but this sounds like a disappointing step backwards," said Lucas County Commissioner Ben Konop, a vociferous critic of Mr. Skeldon and strong early supporter of Ms. Lyle. "This doesn't appear to be up to the standards we were hoping for when we made a change."
Jean Keating, the local co-founder of the Ohio Coalition of Dog Advocates, said Ms. Lyle is making definite progress at getting more dogs adopted, but is hamstrung by the sheer number of dogs her department must deal with.
"She cannot adopt her way out of the problem we have here," said Ms. Keating, also a member of the Lucas County Dog Warden Advisory Committee.
Ms. Keating said the long-term solution to finding adoptable dogs homes involves greater cooperation from dog rescue groups. Although Mr. Skeldon refused to work with all-breed rescues, Ms. Lyle has opened her doors to the groups but isn't getting sufficient interest.
"The local rescue groups are not stepping up to the plate," Ms. Keating said. "I am not going to call out the groups by name, but their mouths were open and they were loud about what was going on before and they are not stepping up and taking dogs for Julie."
Carol Dunn, founder and president of Planned Pethood, Inc., said her rescue group developed relationships with wardens outside of Lucas County because Mr. Skeldon wouldn't give them dogs. As Planned Pethood has room for only so many animals, it is reluctant to abandon those long-standing relationships.
"They worked with us and we don't intend to turn our backs on them just because we can now get dogs out of this pound," Ms. Dunn said. "But I understand their frustration because we complained a lot and now we only take a few."
Mr. Konop said he believes that completing facility upgrades recommended for the pound by a national consultant and the dog warden committee would vastly improve the county's ability to find homes for all adoptable dogs. The nearly $1 million surplus in the dog warden's reserves could finance these projects without dipping into the general fund.
"We have the resources to do this," he said.