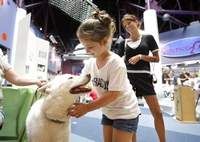 Yipping and barking drowned out the usual background noise of children's chatter Saturday during a two-day canine adoption event at the Imagination Station in downtown Toledo.
"I think this is great," said Rick Smith, 31, of Holland. "It shows that there are so many different dogs out there that need a good home. ...It gives you a choice if you want to adopt a dog rather than to just go to puppy-mill places."
Mr. Smith was among scores of people looking at dogs being showcased for adoption by several area rescue shelters at the free event, which continues from noon to 5 p.m. Sunday.
He was there to adopt an Italian greyhound and look at others, he said.
While showing dogs for the first time at the Imagination Station's Dog Days of Summer event, shelter representatives also were demonstrating how to train pups, keep them healthy, groom them, feed them, and clean after them.
Lisa Gardner, special events manager for the Imagination Station, said she conceived the idea for the event in February.
The dog owner said there is science behind both adopting and training dogs. "I was just looking at organic dog treats, to be honest, the science behind it, why they are healthier for your dog," she recalled.
"I started to research it, and I was going to do an event around organic dog treats, and then from that I thought, 'You know what? Why not blow it up and invite other organizations down here and promote dog adoption and dog training along with it?'"
Participants in the event in-clude Planned Pethood, Hairy Houdini Husky Rescue, Herr Pet Training, Scoop-It Pet Waste Removal, Bubble and Bones, Assistance Dogs of America Inc., Fur Kids Rescue, Golden Retriever Rescue, Italian Greyhound Rescue of Northwest Ohio, and Humane Ohio Spay/Neuter Clinic.
Those wishing to adopt dogs are able to fill out paperwork during the event so shelter representatives can run background checks to determine whether they qualify for adopting.
Heather Luedecke, the northern Ohio representative of the Italian Greyhound Rescue of Ohio, said her organization does reference and veterinary checks on those who want to adopt and also visits their homes.
That helps the rescue group weed out those who don't keep their dogs up to date on vaccinations or spay or neuter their current pets, as well as those who live in apartment complexes where dogs are not allowed or who don't understand the peculiarities of the breed, she said.
Contact Mike Sigov at:
sigov@theblade.com
or 419-724-6089.