Available Cats

All of our cats and kittens have been tested for FIV, FeLk and parasites (and treated, if needed). Our adoption fee includes those tests, spay/neuter, flea preventative and all age-appropriate shots (including Rabies).
Please understand the statements about this animal are based upon the foster home's evaluation of the animal. The animal might behave differently (negatively or positively) in your home. While the animal might be good with the current foster's dogs, cats, children, etc. it may not be with your animal(s) or children. The animal may be housebroken or litter trained in the home of the foster but my relapse in your home. The animal is represented to the public as it performs in the foster home and any statements made regarding the animal are conditional to that foster home setting. These interested in adopting should have read all information about the animal and understand they cannot claim they did not understand the facts about this animal as understood by Planned Pethood and/or the foster. Planned Pethood and vet(s) do our best to provide accurate age and breed of the animal, but sometimes they are educated guesses. Please understand that statements made regarding this animal are simply overviews and are not guaranteed. Your adoption fee is non-refundable for any reason.
STEPS FOR COMPLETING A CAT APPLICATION:

Browse our available cats.

Click on the "More Info" button at the bottom of the pet's picture you are interested in. This will provide you with
      each pet's detailed adoption information.

Click on the "Add to Cart" button and it will take you directly to the Adoption Application.

If you would like to adopt more than one pet, you only have to send in one application. Just send an email to
      pets@plannedpethood.org and let us know which pet your original application was for and what other animals
      you are interested in.

Contact information for the foster is included in the biography so you may reach them directly.
Thank you for your interest in a rescue cat!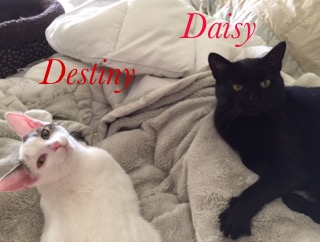 Destiny and Daisy: Special Pricing for 2 Adult Cats!
Daisy was a pregnant stray found in March of 2017, who came to foster mom's home to have her kittens. While nursing her 5 kittens, foster Mom found two more kittens from the colony at about 3 weeks old and introduced them to Daisy, who cared for them as her own. Destiny was one of these two. When Daisy was getting spayed a BB was removed from her leg and she also required surgery for an abscess over her eye, probably from a BB shot as well. Believe it or not, Daisy is super friendly and throws herself to the ground to let you pet her belly. She is very vocal and loves to talk to you.
Destiny is really coming out of her shell. She has completely bonded with Daisy and looks to her for reassurance, although she has started to become more adventurous and is vocal. She loves pets and love on her terms and will allow holding after proper introduction. We are now working on treating from on our laps. She purrs happily when she is resting and someone rubs her head and back.
Due to the intense bond Destiny has with Daisy, foster Mom would prefer these two adorable girls find a home together. Please call Jasmine at 734-625-4557 to find out all the details!

Follow us on Instagram at PlannedPethoodToledo, and on Facebook at Planned Pethood, Inc.

Special Notes:
Breed:
DSH Black
Sex:
Female
Age:
Adult
Likes Cats:
Yes
Likes Dogs:
Unknown
Litter Trained:
Yes
Needs a Pal:
Yes, preferably Destiny
Likes kids under 5:
Unknown
Likes kids over 5:
Unknown
Declawed:
No
Social:
Yes
Foster Name:
Jen S.
Foster #:
734-625-4557
PPI#:
112817.1
Add Date:
11/29/17
Last Updated:
Adopt Date: