Available Cats

All of our cats and kittens have been tested for FIV, FeLk and parasites (and treated, if needed). Our adoption fee includes those tests, spay/neuter, flea preventative and all age-appropriate shots (including Rabies).
Please understand the statements about this animal are based upon the foster home's evaluation of the animal. The animal might behave differently (negatively or positively) in your home. While the animal might be good with the current foster's dogs, cats, children, etc. it may not be with your animal(s) or children. The animal may be housebroken or litter trained in the home of the foster but my relapse in your home. The animal is represented to the public as it performs in the foster home and any statements made regarding the animal are conditional to that foster home setting. These interested in adopting should have read all information about the animal and understand they cannot claim they did not understand the facts about this animal as understood by Planned Pethood and/or the foster. Planned Pethood and vet(s) do our best to provide accurate age and breed of the animal, but sometimes they are educated guesses. Please understand that statements made regarding this animal are simply overviews and are not guaranteed. Your adoption fee is non-refundable for any reason.
STEPS FOR COMPLETING A CAT APPLICATION:

Browse our available cats.

Click on the "More Info" button at the bottom of the pet's picture you are interested in. This will provide you with
      each pet's detailed adoption information.

Click on the "Add to Cart" button and it will take you directly to the Adoption Application.

If you would like to adopt more than one pet, you only have to send in one application. Just send an email to
      pets@plannedpethood.org and let us know which pet your original application was for and what other animals
      you are interested in.

Contact information for the foster is included in the biography so you may reach them directly.
Thank you for your interest in a rescue cat!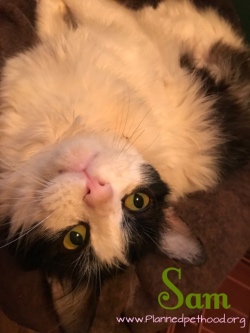 This gorgeous pretty boy is Sam. He has had a string of bad luck, but I'm hoping his luck has changed. You always hear how cats are so sweet? Well, Sam is sweeter then the sweetest! He was thrown out like garbage and his home was demolished. He was rescued while he was sitting on top of the rubbish of the house, and he had a huge injury to the back of his ear that took a month of healing. Left untreated, the injury would have eventually killed him.

Sam has tested FIV positive. While that doesn't make his life less important then others and he can still lead a long normal life, it does cut down on his chances of being adopted soon because there are many misconceptions about FIV+ cats. FIV is NOT transmittable to other dogs or humans. He doesn't mind cats or dogs, however he would like to be a lap cat and live with another FIV positive cat or cats, or live with no other cats. He can live with lots of dogs!

Sam loves people, and while he is only 3-4 years old, he is a mellow laid back cat. While some rescues euthanize cats right away if they have FIV, Planned Pethood is not one of those rescues! We always try to save them all!

Follow us on Instagram at PlannedPethoodToledo, and on Facebook at Planned Pethood, Inc.
Special Notes:
Breed:
DLH Black and White
Sex:
Male
Age:
Adult
Likes Cats:
Yes
Likes Dogs:
Yes
Litter Trained:
Yes
Needs a Pal:
No
Likes kids under 5:
Unknown
Likes kids over 5:
Unknown
Declawed:
No
Social:
Yes
Foster Name:
Lynn H.
Foster #:
419-346-0710
PPI#:
21219.1
Add Date:
2/12/2019
Last Updated:
Adopt Date: