Available Cats

All of our cats and kittens have been tested for FIV, FeLk and parasites (and treated, if needed). Our adoption fee includes those tests, spay/neuter, flea preventative and all age-appropriate shots (including Rabies).
Please understand the statements about this animal are based upon the foster home's evaluation of the animal. The animal might behave differently (negatively or positively) in your home. While the animal might be good with the current foster's dogs, cats, children, etc. it may not be with your animal(s) or children. The animal may be housebroken or litter trained in the home of the foster but my relapse in your home. The animal is represented to the public as it performs in the foster home and any statements made regarding the animal are conditional to that foster home setting. These interested in adopting should have read all information about the animal and understand they cannot claim they did not understand the facts about this animal as understood by Planned Pethood and/or the foster. Planned Pethood and vet(s) do our best to provide accurate age and breed of the animal, but sometimes they are educated guesses. Please understand that statements made regarding this animal are simply overviews and are not guaranteed. Your adoption fee is non-refundable for any reason.
STEPS FOR COMPLETING A CAT APPLICATION:

Browse our available cats.

Click on the "More Info" button at the bottom of the pet's picture you are interested in. This will provide you with
      each pet's detailed adoption information.

Click on the "Add to Cart" button and it will take you directly to the Adoption Application.

If you would like to adopt more than one pet, you only have to send in one application. Just send an email to
      pets@plannedpethood.org and let us know which pet your original application was for and what other animals
      you are interested in.

Contact information for the foster is included in the biography so you may reach them directly.
Thank you for your interest in a rescue cat!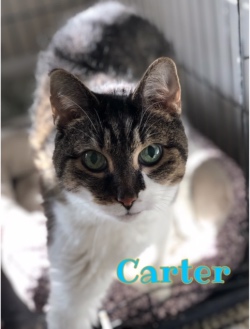 Carter lost his home when his owner went into a nursing home. He had
been looked in on daily by his owners elderly sister, but once they knew his owner wasn't coming home, he had no where to go. He is a
elderly guy at age 14 and has some age related issues but enjoys the company of humans, the gentle foster cats he lives with and also looks
forward to meal time. Carter can be quite the talker, too. This sweet gentleman deserves a cuddly bed and the love of a family to live out
his life. He enjoys a half can of Friskies morning and night and will come with a 6 month supply of kibble. Senior for senior discount
applies as well. If you are interested in meeting or adopting Carter, please fill out your application today by clicking below, or contact Nancy at nancy@teamhumane.org or 419-450-8581.

Follow us on Instagram at PlannedPethoodToledo, and on Facebook at Planned Pethood, Inc.

Special Notes:
Breed:
DSH Brown/White/Gray Tabby
Sex:
Male
Age:
Senior
Likes Cats:
Yes
Likes Dogs:
Unknown
Litter Trained:
Yes
Needs a Pal:
No
Likes kids under 5:
Unknown
Likes kids over 5:
Unknown
Declawed:
No
Social:
Yes
Foster Name:
Nancy
Foster #:
419-450-8581
PPI#:
102918.1
Add Date:
10/29/2018
Last Updated:
Adopt Date: