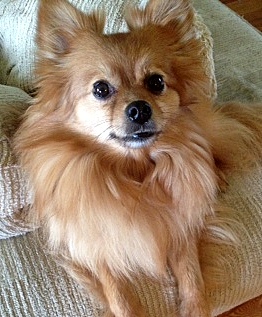 Abby Grace is an exceptionally sweet 5 year old Pomeranian. She loves to cuddle and loves attention from her humans. At her new foster home, it didn't take her long to get comfortable and she quickly started showing affection. Abby always seems to have a pleasant look on her face and just seems generally happy. She loves to go for walks and can't contain herself when foster mom gets the leash out. She just gets so excited about getting out and seeing all there is to see.
She does pull on the leash when walking, but she is light. Her foster mom is working with her on the leash pulling.

Since she is a Pomeranian, Abby Grace will require regular brushing and grooming. She seems to enjoy being brushed. Potential adopters are encouraged to research the care of Pomeranians and their beautiful hair. With proper upkeep, Abby Grace looks like a dog fit for a king or queen.

If you are looking for a loving dog who enjoys snuggling, Abby Grace just might be your girl. She does tend to yip and yap when overwhelmed at adoption events, but at her foster home, she only barks when someone comes to the door. If you are interested in meeting or adopting Abby Grace, please complete an online application.
Special Notes:
Breed:
Pomeranian
Sex:
Female
Estimated Birth Date:
05/07/2009
Weight:
12 pounds
Status:
Available
Add Date:
05/14/2014
Last Updated:
05/21/2014
Adopt Date:
05/24/2014
PPI#:
050714.3
Tag #:
2604
Foster Name:
Beth H.
Adoption Fee:
$150
Likes Cats:
Unknown
Likes Dogs:
Yes, but prefers smaller dogs
House trained:
Yes
Needs a pal:
No
Likes kids under 5:
Unknown
Likes over 5:
Yes
Kenneled:
No
Walks on a leash
Yes, but pulls
Shares Toys With Humans:
Unknown
Shares Toys With Other Animals:
Unknown
Eats Nicely With Humans:
Yes
Eats Nicely With Other Animals:
Yes
Knows Basic Commands:
Unknown
Fence Needed:
No, but preferred
Fence Jumper:
Unknown
Crate Trained:
Yes
Energy Level (1-5):
2-3
Rides nicely in car:
Yes