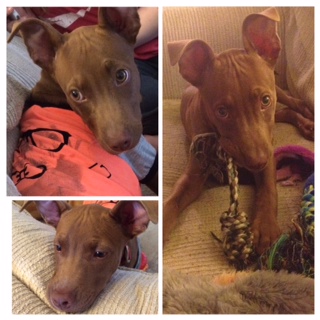 Abe had a rough start in life. He was found as a stray and was infected with parvovirus. He was rescued, treated and made a full recovery. Now he is looking for the home of his dreams! His foster family can't say enough nice things about him. He is exceptionally sweet and adorable. He loves to cuddle and he loves to play, play, play! He can get a little rough, though. He is definitely teething and is learning that he shouldn't sink his teeth into everything. He loves other dogs and does very well with young, playful dogs. The older dogs don't seem to enjoy his puppy ways, but Abe is just trying to have fun. Abe loves to run and play with toys and would fit in well with an active family.

Abe is doing very well with house training and is already crate trained. He is definitely one smart pup. He is looking for a family who will teach him to be the best boy he can be. Once you meet Abe, you will fall in love with him and his beautiful green eyes. He is such a special boy and truly deserves a forever home. If you are interested in meeting or adopting Abe, please complete an online application.
Special Notes:
Breed:
Pit Bull Terrier mix
Sex:
Male
Estimated Birth Date:
03/28/2014
Weight:
15.4 pounds
Status:
Available
Add Date:
06/20/2014
Last Updated:
07/22/2014
Adopt Date:
08/07/2014
PPI#:
071114.1
Tag #:
2497
Foster Name:
Beth H.
Adoption Fee:
$200
Likes Cats:
Unknown
Likes Dogs:
Yes
House trained:
Learning
Needs a pal:
No
Likes kids under 5:
Unknown
Likes over 5:
Yes
Kenneled:
Crated
Walks on a leash
Yes
Shares Toys With Humans:
Yes
Shares Toys With Other Animals:
Yes
Eats Nicely With Humans:
Yes
Eats Nicely With Other Animals:
Yes
Knows Basic Commands:
A few.
Fence Needed:
Preferred.
Fence Jumper:
No
Crate Trained:
Yes
Energy Level (1-5):
4-5
Rides nicely in car:
Yes, in a carrier