All of our cats and kittens have been tested for FIV, FeLk and parasites (and treated, if needed). Our adoption fee includes those tests, spay/neuter, flea preventative and all age-appropriate shots (including Rabies).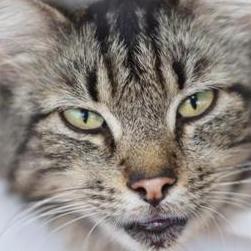 Steps for completing a cat application:
Click on the "More Info" button at the bottom of the cat's picture you are interested in.  This will provide you with each cat's detailed adoption information.
Click on the "Add to Cart" button and it will take you directly to the Adoption Application.
If you would like to adopt more than one cat, you only have to complete one application.  Just send an email to ppiapplications@gmail.com and let us know which cat your original application was for and what other cats you're interested in.
Thank you for your interest in a rescue cat!



Washington 12619
Cats Adopted 2019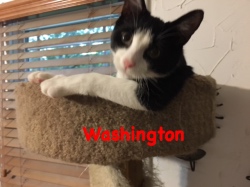 Hey guys! Just hanging around. Wondering why no one wants to adopt me? I LOVE people! If you are in the kitchen, on the couch, in bed, in the garage, wherever...I want to be there too. I was born around February of 2018 so I'm still just a teenager, with teenager energy...maybe thats why? I play with my cat friends here at the house and am good with my dog friends too. I love my dad tho, greeting him every morning by rolling on the floor so he can pet my belly. Bedtime is best....we all get to cozy up on the bed, right next to mom so she can pet me in the middle of the night. I use a litter box and mom tells me i am "OK " with those ouchy shots for now, I stare out the window at the birds and squirrels and chippers visiting the house but never get to play with them, as I have to stay indoors. Its much better to be inside as my first home was dirty and I wasnt fed well, was kept outside, was very skinny and full of fleas and had pneumonia! I am all healthy now...so fill out an application and if I am lucky I will have a new home with buddies and humans that will love me as much as my foster family does. If you are interested in meeting or adopting Washington, please contact Michelle at 419-276-4910. Follow us on Instagram at PlannedPethoodToledo, and on Facebook at Planned Pethood, Inc.
Special Notes:
.
Breed:
DSH Black and White
Sex:
Male
Age:
Adult
Likes Cats:
Yes
Likes Dogs:
Yes
Litter Trained:
Yes
Needs a Pal:
No
Likes kids under 5:
Unknown
Likes kids over 5:
Unknown
Declawed:
No
Social:
Yes
Foster Name:
Karen A.
Foster #:
419-276-4910
PPI#:
071018.6
Add Date:
07/10/2018
Last Updated:
01/15/2019
Adopt Date:
1/26/2019