All of our cats and kittens have been tested for FIV, FeLk and parasites (and treated, if needed). Our adoption fee includes those tests, spay/neuter, flea preventative and all age-appropriate shots (including Rabies).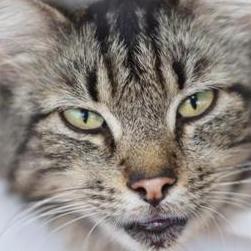 Steps for completing a cat application:
Click on the "More Info" button at the bottom of the cat's picture you are interested in.  This will provide you with each cat's detailed adoption information.
Click on the "Add to Cart" button and it will take you directly to the Adoption Application.
If you would like to adopt more than one cat, you only have to complete one application.  Just send an email to ppiapplications@gmail.com and let us know which cat your original application was for and what other cats you're interested in.
Thank you for your interest in a rescue cat!



Frosty adopted 12019
Cats Adopted 2019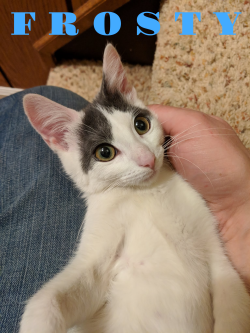 Yukon and Frosty are brothers born on 8/12/18 and are looking to go to their forever home together! They are two of the most playful and loving kittens you'll meet! They are always playing together with each other or their humans! When they are not playing, both will be on their humans laps purring and soaking up all the snuggles. They will give head bumps to show their affection to you! When play time is over, you can find them snuggling with each other which is why we want them to go together! Interested? We thought so! Check out Frosty's brother Yukon in our available cats list, and then contact their foster with the number below, or fill out an application today! Follow us on Instagram at PlannedPethoodToledo, and on Facebook at Planned Pethood, Inc.
Special Notes:
.
Breed:
DSH White with Black
Sex:
Male
Age:
Kitten
Likes Cats:
Yes
Likes Dogs:
Yes
Litter Trained:
Yes
Needs a Pal:
Yes, his brother, Yukon
Likes kids under 5:
Unknown
Likes kids over 5:
Unknown
Declawed:
No
Social:
Yes
Foster Name:
Steve and Jackie P.
Foster #:
419-460-0605
PPI#:
10119.2
Add Date:
01/01/2019
Last Updated:
Adopt Date:
1/20/2019