All of our cats and kittens have been tested for FIV, FeLk and parasites (and treated, if needed). Our adoption fee includes those tests, spay/neuter, flea preventative and all age-appropriate shots (including Rabies).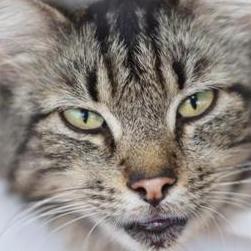 Steps for completing a cat application:
Click on the "More Info" button at the bottom of the cat's picture you are interested in.  This will provide you with each cat's detailed adoption information.
Click on the "Add to Cart" button and it will take you directly to the Adoption Application.
If you would like to adopt more than one cat, you only have to complete one application.  Just send an email to ppiapplications@gmail.com and let us know which cat your original application was for and what other cats you're interested in.
Thank you for your interest in a rescue cat!



Marsh 20319
Cats Adopted 2019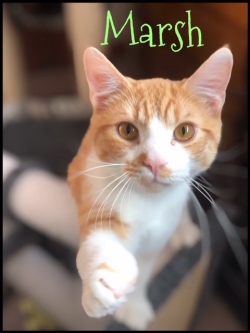 Looking for a family ready and friendly kitty? Marsh is a sweet guy, born May of 2018. He's a short hair orange and white young guy who emerged from a grassy field at a local park. Meowing for help, he ran right over to people walking their dogs (lucky for him, they were cat friendly dogs), and was carried for the walk back to the car. Easy to say this guy is dog friendly, loves other cats and all humans. He was very thin and had to put on a few pounds and get his GI system accustomed to regular meals again. Marsh loves to be cuddled, is calm for his age, and loves the companionship of other kitties. If you are interested in meeting or adopting Marsh, please contact his foster, Nancy at nancy@teamhumane.org or 419-450-8581. Follow us on Instagram at PlannedPethoodToledo, and on Facebook at Planned Pethood, Inc.
Special Notes:
Breed:
DSH Orange and White Tabby
Sex:
Male
Age:
Adult
Likes Cats:
Yes
Likes Dogs:
Yes
Litter Trained:
Yes
Needs a Pal:
No
Likes kids under 5:
Unknown
Likes kids over 5:
Unknown
Declawed:
No
Social:
Yes
Foster Name:
Nancy
Foster #:
419-450-8581
PPI#:
011219.1
Add Date:
01/13/2019
Last Updated:
Adopt Date:
2/3/2019