Bear
Dogs - Available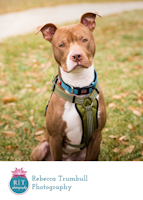 Bear is seeking an experienced owner. You know how the baby in the family acts bad and then they get away with it because they are so cute? That's Bear. Bear is a 1.5 year old (ish) pittie mix. He came from an owner who ended up homeless and Bear has not had much structure or stability in his life. He was under weight when he was surrendered and even in the first week, he looked so much healthier! He is a fun loving, energetic sweetheart... who occasionally likes to cause mischief. What teenager doesn't? Bear is smart and very food motivated. He is very trainable but struggles with overstimulation. He's a bit of a wild child right now and loves to play hard, but once he is worn out, he is a big snuggle baby. Bear will grow into a wonderful companion if he is given lots of fun, discipline and love! (Eventually they grow to mellow out a bit). Bear will push all your buttons and wear down your patience and then he will look at you with those precious eyes... those perfectly cute ears... and tilt his head... and you will forget why you were even frustrated. Bear is ready to learn all the tricks and commands. If you are seeking a puppy heart without the potty training for a lot of fun, Bear is your boy! If you have experience with stubborn bullies or dogs requiring a little extra structure, please apply! Bear needs a lot of time investment but we can guarantee that he is 100% worth it. Bear needs a fenced-in yard to burn some energy. Complimentary training at Central Kennels is included with his adoption. Bear is more than ready to have his day with you, so if you're willing to open up your heart and home to him, please fill out an application.
Special Notes: Complimentary training at Central Kennels is included with Bear's adoption. Bear's adoption fee is sponsored by Pet Supplies Plus on Airport Highway in Toledo. Thank you to our sponsors!
Breed:
Pittie mix
Sex:
Male
Estimated Birth Date:
07/07/2018
Weight:
49 pounds
Status:
Available
Add Date:
01/13/2020
Last Updated:
09/02/2020
Adopt Date:
PPI#:
012120.1
Tag #:
####
Foster Name:
Jennifer CK
Adoption Fee:
Sponsored by Pet Supplies Plus, Airport Hwy.
Likes Cats:
Selective
Likes Dogs:
Selective
House trained:
Yes
Needs a pal:
No
Likes kids under 5:
Probably
Likes over 5:
Yes, probably
Kenneled:
Yes
Walks on a leash
Yes, much improved
Shares Toys With Humans:
Yes
Shares Toys With Other Animals:
Yes
Eats Nicely With Humans:
Begs, working on it
Eats Nicely With Other Animals:
Yes
Knows Basic Commands:
Knows sit, down, shake, & wait. Continues to learn more.
Fence Needed:
Required; no electric or invisible fence.
Fence Jumper:
No
Crate Trained:
Yes
Energy Level (1-5):
5
Rides nicely in car:
Would be best to seat belt or crate him
Note:
Please understand the statements about this animal are based upon the foster home's evaluation of the animal. The animal might behave differently (negatively or positively) in your home. While the animal might be good with the current foster's dogs, cats, children, etc., it may not be with your animal(s) or children. The animal may be housebroken or litter trained in the home of the foster but may relapse in your home. The animal is represented to the public as it performs in the foster home and any statements made regarding the animal are conditional to that foster home setting. Those interested in adopting should have read all information about the animal and understand they cannot claim they did not understand the facts about this animal as understood by Planned Pethood and/or the foster. Planned Pethood and vet(s) do our best to provide accurate age and breed of the animal, but sometimes they are educated guesses. Please understand that statements made regarding this animal are simply overviews and are not guaranteed. Your adoption fee is non-refundable for any reason.
Click button below to fill out application