Asher - ADOPTED
Dogs Adopted 2020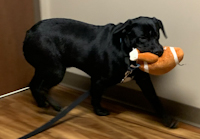 This cute little guy is the best of both worlds! Asher enjoys snuggling on the couch on a Saturday afternoon – he thinks he's a lap dog and wants to be as close to you as possible. But he also needs a family who will throw a ball around and allow him to carry many toys around the house. He needs to be carrying a toy at all times. He also loves being outside and can entertain himself. He plays great with other dogs of all sizes and has had no issues with children. Asher would be the life of the party at the dog park! He's learned some new skills during his time with us, such as sit, come and shake and has the potential to learn much more! Asher picked up quickly on the household routine. He prefers to sleep on the floor or in a dog bed – sometimes we find him in his "house." We refer to Asher as a "lower-rider" – he bunny hops up the stairs and needs a running start to get on the couch or the bed. He does require assistance getting into cars/suvs. If you're interested in meeting or adopting this charming fellow, please complete our application.
Special Notes:
Breed:
Lab mix
Sex:
Male
Estimated Birth Date:
07/03/2018
Weight:
45 pounds
Status:
Available
Add Date:
07/03/2020
Last Updated:
08/01/2020
Adopt Date:
08/02/2020
PPI#:
072920.1
Tag #:
####
Foster Name:
Heather and Kelly
Adoption Fee:
$175
Likes Cats:
Unknown
Likes Dogs:
Yes
House trained:
Yes
Needs a pal:
No
Likes kids under 5:
Probably
Likes over 5:
Yes
Kenneled:
Yes
Walks on a leash
Yes
Shares Toys With Humans:
Yes
Shares Toys With Other Animals:
Yes
Eats Nicely With Humans:
Unknown
Eats Nicely With Other Animals:
Unknown
Knows Basic Commands:
Knows sit, come, shake. Continues to learn more.
Fence Needed:
Unknown
Fence Jumper:
Unknown
Crate Trained:
Yes
Energy Level (1-5):
3-4
Rides nicely in car:
Unknown
Note:
Please understand the statements about this animal are based upon the foster home's evaluation of the animal. The animal might behave differently (negatively or positively) in your home. While the animal might be good with the current foster's dogs, cats, children, etc., it may not be with your animal(s) or children. The animal may be housebroken or litter trained in the home of the foster but may relapse in your home. The animal is represented to the public as it performs in the foster home and any statements made regarding the animal are conditional to that foster home setting. Those interested in adopting should have read all information about the animal and understand they cannot claim they did not understand the facts about this animal as understood by Planned Pethood and/or the foster. Planned Pethood and vet(s) do our best to provide accurate age and breed of the animal, but sometimes they are educated guesses. Please understand that statements made regarding this animal are simply overviews and are not guaranteed. Your adoption fee is non-refundable for any reason.
Click button below to fill out application