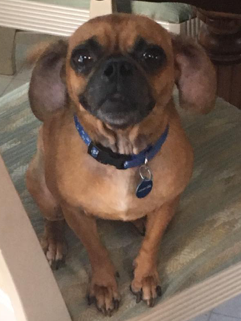 Hi, I'm Pixie! I love people! They are the best. I like to snuggle them and play with them and even share their beds! I'm good with kiddies and kitties. I'm good with other dogs but I love to play so I like friends who can keep up with me! I'm housebroken and crate trained. I don't necessarily need a yard but I do need someone to play with me. I don't care if it is kids, adults, or another doggie friend, I just need someone to entertain me. My favorite toys are nylabones and anything that squeaks. I do have a medicine that I have to take for my allergies to keep me from being itchy but I'm a good girl about taking it. Overall, my foster mom says I'm a playful, silly, snuggly little girl and whoever adopts me is going to be extremely lucky. If you are interested in meeting or adopting Pixie, please complete an online application.
Special Notes: Pixie requires monthly medication and has a special adoption fee of $75.
Breed:
Pug/Beagle mix
Sex:
Female
Estimated Birth Date:
03/23/2013
Weight:
15.5 pounds
Status:
Available
Add Date:
09/23/2016
Last Updated:
12/14/2016
Adopt Date:
12/17/2016
PPI#:
111616.1
Tag #:
####
Foster Name:
Jessica W.
Adoption Fee:
$75
Likes Cats:
Yes
Likes Dogs:
Yes
House trained:
Yes
Needs a pal:
Yes, needs a playmate
Likes kids under 5:
Yes
Likes over 5:
Yes
Kenneled:
Yes
Walks on a leash
Yes
Shares Toys With Humans:
Yes
Shares Toys With Other Animals:
Yes
Eats Nicely With Humans:
Yes
Eats Nicely With Other Animals:
Yes
Knows Basic Commands:
Yes
Fence Needed:
No
Fence Jumper:
No
Crate Trained:
Yes
Energy Level (1-5):
4
Rides nicely in car:
Yes