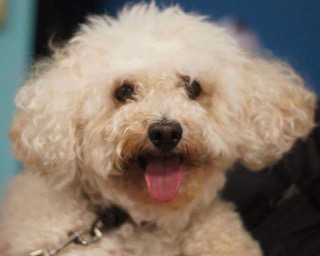 Buddy Blitzen is a sweet, affectionate bundle of curls. He is a cling-on and will follow you around until you sit, and then he jumps on your lap like he owns it. He ignores the resident dogs and devotes all of his attention to you. He is crated while foster mom works, and loves to snuggle under the covers at night. If you are interested in Buddy the Bichon, please apply on line.
Special Notes:
Breed:
Bichon Frise/Poodle mix
Sex:
Male
Estimated Birth Date:
11/19/2012
Weight:
13 pounds
Status:
Available
Add Date:
11/19/2016
Last Updated:
11/30/2016
Adopt Date:
12/10/2016
PPI#:
111916.1
Tag #:
####
Foster Name:
Barb G.
Adoption Fee:
$175
Likes Cats:
Curious
Likes Dogs:
Yes
House trained:
Yes
Needs a pal:
No
Likes kids under 5:
Unknown
Likes over 5:
Unknown
Kenneled:
Yes
Walks on a leash
Yes
Shares Toys With Humans:
Yes
Shares Toys With Other Animals:
Yes
Eats Nicely With Humans:
Yes
Eats Nicely With Other Animals:
Yes
Knows Basic Commands:
Yes
Fence Needed:
Yes; no invisible fences
Fence Jumper:
No
Crate Trained:
Yes
Energy Level (1-5):
2
Rides nicely in car:
Yes