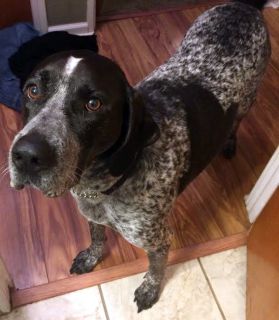 Hello, my name is Bailey Boo, I am a very friendly boy. I'm a three year old German Shorthaired Pointer. I want to please my person. I am good on a leash and like long walks. I like seeing other dogs and playing with them also. I also like seeing squirrels and rabbits! I am very well behaved in the house and am potty trained. I am also crate trained. My foster mother says I am a really sweet dog and a joy to be around; the only thing I cannot be around is cats. They really excite me and I like to chase them. I like to lie on my bed at night and hang out with my foster mother. She gives me treats which I like and some chew bones. I mostly like to carry them around with me. She also takes me to her office and I like visiting everyone in their offices and saying hello and getting belly rubs. I am also very good in the car, so you can take me places with no problem. I would prefer a big yard with lots of land to run! I am very fast and love to run around, and having trees in your yard would be an added bonus! If you think I am the right dog for you, please fill out an online application.
Special Notes:
Breed:
German Shorthaired Pointer
Sex:
Male
Estimated Birth Date:
01/15/2013
Weight:
61.6 pounds
Status:
Available
Add Date:
07/14/2014
Last Updated:
11/18/2016
Adopt Date:
11/19/2016
PPI#:
071514.2r
Tag #:
3486
Foster Name:
Julie W.
Adoption Fee:
$150
Likes Cats:
NO
Likes Dogs:
Yes
House trained:
Yes
Needs a pal:
Unknown
Likes kids under 5:
Too high energy for little ones
Likes over 5:
Unknown
Kenneled:
Yes
Walks on a leash
Yes
Shares Toys With Humans:
Yes
Shares Toys With Other Animals:
Yes
Eats Nicely With Humans:
Yes
Eats Nicely With Other Animals:
Yes
Knows Basic Commands:
Some
Fence Needed:
Yes
Fence Jumper:
Unknown
Crate Trained:
Yes
Energy Level (1-5):
4
Rides nicely in car:
Yes