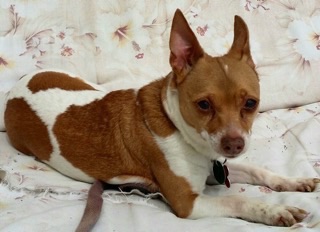 Hello! My name is Wanda Zoie, but everyone just calls me Zoie. I am an 8 year old Chihuahua/Jack Russell Terrier mix. I just love people and hope to find a gig as a full-time lap dog. I am going to be a great best friend for someone. I am house trained already, so you have no worries in that department. I get along with dogs and cats, too. I'm not very keen on being home alone a lot. I would love to find a home where somebody will be home most of the time. We could hang out and watch TV and you can pet me whenever you'd like. If you get up, I will probably follow you because I will love you so much. Oh, and if there's a free spot in your bed, I would love to sleep with you. I don't take up very much room. I sleep with my foster mom and I just love it. She can't believe that I haven't been adopted yet, but she said that I can stay with her as long as I'd like since I'm her sweetie pie. Even though she loves me, it's probably time for me to find my forever home. All you have to do is complete an application and she will contact you to tell you everything you want to know about me. If you are interested in meeting or adopting Wanda Zoie, please complete an online application.
Special Notes: Wanda Zoie has a special adoption fee of $75.
Breed:
Chihuahua/Jack Russell Terrier mix
Sex:
Female
Estimated Birth Date:
04/14/2007
Weight:
8.3 pounds
Status:
Available
Add Date:
04/14/2015
Last Updated:
01/23/2016
Adopt Date:
01/30/2016
PPI#:
041415.4
Tag #:
3186
Foster Name:
Missie J.
Adoption Fee:
$75
Likes Cats:
Yes
Likes Dogs:
Yes, as long as they respect her space
House trained:
Yes
Needs a pal:
No
Likes kids under 5:
No
Likes over 5:
Must be age 10 and up
Kenneled:
No; cannot be kenneled
Walks on a leash
Yes
Shares Toys With Humans:
Doesn't play with toys
Shares Toys With Other Animals:
Unknown
Eats Nicely With Humans:
Unknown
Eats Nicely With Other Animals:
Prefers to eat alone away from other dogs
Knows Basic Commands:
Unknown
Fence Needed:
Preferred
Fence Jumper:
No
Crate Trained:
No
Energy Level (1-5):
3
Rides nicely in car:
Unknown