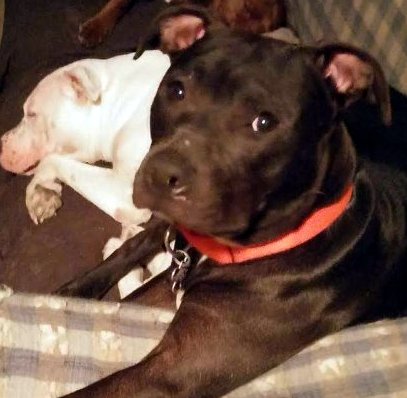 Ryder is a sweet young boy who loves to cuddle. He loves his people and just wants to be close as much as possible. He has no idea that he's a little too big to be a lap dog and he is so good at snuggling that you won't mind. He gets along well with other dogs and doesn't mind cats. Since he is a younger guy, he'd really benefit from having a mom or dad who will take the time to work with him so that he can be the best boy possible. If you think you're ready for a full-time cuddle buddy, you absolutely must meet the handsome Ryder. Ryder is also a video star - check him out on YouTube at https://youtu.be/cg_QFKW5Z_0 If you are interested in meeting or adopting Ryder, please complete an online application.
Special Notes: Ryder has a special adoption fee of $75.
Breed:
Pit Bull Terrier mix
Sex:
Male
Estimated Birth Date:
12/18/2014
Weight:
52.9 pounds
Status:
Available
Add Date:
03/18/2015
Last Updated:
10/01/2016
Adopt Date:
10/08/2016
PPI#:
032315.1
Tag #:
2906
Foster Name:
Jessica R.
Adoption Fee:
$75
Likes Cats:
Yes
Likes Dogs:
Yes
House trained:
Yes
Needs a pal:
No
Likes kids under 5:
Yes
Likes over 5:
Yes
Kenneled:
Yes
Walks on a leash
Yes
Shares Toys With Humans:
Yes
Shares Toys With Other Animals:
Yes
Eats Nicely With Humans:
Yes
Eats Nicely With Other Animals:
Unknown
Knows Basic Commands:
Sit
Fence Needed:
Preferred
Fence Jumper:
Yes
Crate Trained:
Yes
Energy Level (1-5):
3-4
Rides nicely in car:
Yes