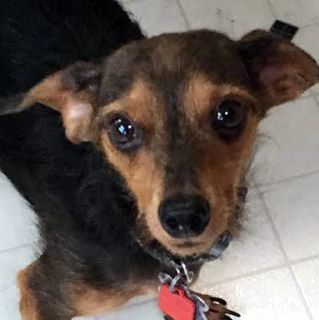 Meet Rudy! He's a 4 year old Dachshund/Chihuahua mix who loves people, both big and little ones. He is looking for his best friend that will shower him with love and lots of attention. A perfect day for Rudy would include going for walks, playing ball or with his squeaker toys, and taking naps. He enjoys having fun and he can be very nosy at times, he likes to check out all the new smells in the yard, so a fenced yard might be ideal for him. At night, he loves to snuggle and bury himself in the blankets. He likes having other dogs around, but it's not a must for him. Rudy is both house-trained and crate-trained. He is not a big fan of being left alone all day, but sometimes he knows it has to happen. If you are interested in becoming Rudy's best friend, please complete an online application.
Special Notes: Rudy has a special adoption fee of $75.
Breed:
Dachshund/Chihuahua mix
Sex:
Male
Estimated Birth Date:
07/17/2012
Weight:
10.1 pounds
Status:
Available
Add Date:
07/17/2015
Last Updated:
08/02/2016
Adopt Date:
08/13/2016
PPI#:
071715.2r
Tag #:
####
Foster Name:
Amy L.
Adoption Fee:
$75
Likes Cats:
Unknown, but likely not due to curious nature
Likes Dogs:
Yes
House trained:
Yes
Needs a pal:
No
Likes kids under 5:
Yes
Likes over 5:
Yes
Kenneled:
During the day
Walks on a leash
Yes
Shares Toys With Humans:
Yes
Shares Toys With Other Animals:
Yes
Eats Nicely With Humans:
Yes
Eats Nicely With Other Animals:
Yes
Knows Basic Commands:
Yes
Fence Needed:
Preferred
Fence Jumper:
No, but could go under due to size
Crate Trained:
Yes
Energy Level (1-5):
3-4
Rides nicely in car:
Yes, but can get nervous