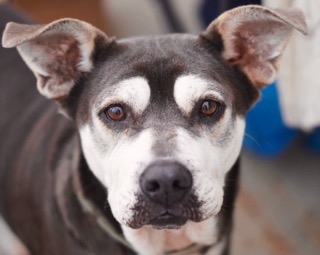 OMG, what kind of house of horrors did Mila come from? She was surrendered to the pound along with three other dogs in her household. She was covered with open sores oozing pus and suffered from eye and ear infections. She had huge bald patches all over her. She was so debilitated she could not even walk. On top of that, she had been bred over and over and over. That is just what you want in the mom of your new pup, right? Things looked very grim for little Mila until PPI came to her rescue. You would think living like that would produce a bad attitude and you would be wrong. Mila is the best natured, happiest, most charming dudette. Her allergies are under control and her hair has grown back and she is cuter than I have words to describe. We only have time for one quick Mila story here. When her foster mom was adjusting the quilt in her crate, she found half a dozen toys and bones from the other household dogs and a pair of her flip flops, not destroyed but well hidden. Mila is a hoarder! She loves all other dogs and people and she likes the cats too. She will be a great, great companion for someone. There is one caveat, however; she will need meds for her allergies the rest of her life. Filing an online app will put you in touch with Miss Mila Tequila. If you are interested in meeting or adopting Mila, please complete an online application.
Special Notes: Mila has a special adoption fee of $20.
Breed:
Shar Pei mix
Sex:
Female
Estimated Birth Date:
05/19/2009
Weight:
43 pounds
Status:
Available
Add Date:
05/19/2015
Last Updated:
05/07/2016
Adopt Date:
05/21/2016
PPI#:
061615.1
Tag #:
3428
Foster Name:
Judy S.
Adoption Fee:
$20
Likes Cats:
Yes
Likes Dogs:
Yes
House trained:
Yes
Needs a pal:
No
Likes kids under 5:
Unknown
Likes over 5:
Yes
Kenneled:
No
Walks on a leash
Yes
Shares Toys With Humans:
Yes
Shares Toys With Other Animals:
Yes
Eats Nicely With Humans:
Yes
Eats Nicely With Other Animals:
Yes
Knows Basic Commands:
Yes
Fence Needed:
Yes
Fence Jumper:
No
Crate Trained:
No
Energy Level (1-5):
3
Rides nicely in car:
Yes