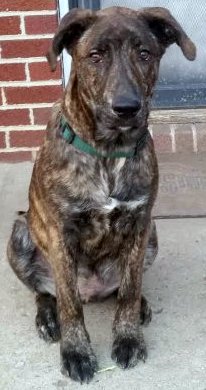 Well, I'm the last man standing, all of my brothers and sisters found a home and I'm just wondering when it will be my turn! My name is Harvey and I'm a Lab mix. I love to play with other dogs, and I need to have a buddy when I find my forever home. I do not like to be the only dog! I am house trained and sleep nice in my kennel. Once you meet me, I'm sure I will steal your heart! A 6 ft. fully fenced-in yard is required for adoption; no electric fences allowed. If you are interested in meeting or adopting Harvey, please complete an online application.
Special Notes:
Breed:
Labrador Retriever mix
Sex:
Male
Estimated Birth Date:
07/16/2015
Weight:
55 pounds
Status:
Available
Add Date:
08/17/2015
Last Updated:
08/17/2016
Adopt Date:
09/03/2016
PPI#:
091615.6
Tag #:
2828
Foster Name:
Missie J.
Adoption Fee:
$150
Likes Cats:
Yes
Likes Dogs:
Yes
House trained:
Yes
Needs a pal:
Yes! Required for adoption
Likes kids under 5:
No, due to youthful goofiness
Likes over 5:
Over age 10 since he's a big goofy puppy
Kenneled:
Yes
Walks on a leash
Unknown
Shares Toys With Humans:
Yes
Shares Toys With Other Animals:
Yes
Eats Nicely With Humans:
Unknown
Eats Nicely With Other Animals:
Yes
Knows Basic Commands:
Unknown
Fence Needed:
Complete 6' fence required; no electric fence
Fence Jumper:
Yes
Crate Trained:
Yes
Energy Level (1-5):
3-4
Rides nicely in car:
Yes