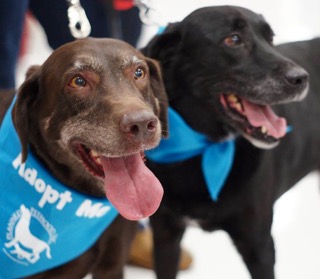 Low maintenance, mature, stately older lady looking for a quiet retirement home. Golden Girl Zoe would prefer the company of wise companions such as herself, the noise of toddlers can get on her nerves, she prefers teenagers and adults that understand that an undisturbed nap and bird watching are her top priorities. Zoe has some mobility issues on/off bed and in/out of vehicles due to her age. She takes the usual extra care that a mature woman of her age might require. She is house broken and does not need a crate when left alone. She has adapted very well in her foster home within a couple of weeks and loves the companionship of people and other dogs. Zoe and Ruby were surrendered because their owners could not properly care for them anymore. They are well adjusted and healthy dogs that need a home together. If you would like to meet or adopt Zoe and Ruby, please complete an online application.
Special Notes: Zoe and her pal Ruby need to be adopted together to the same forever home. They each have a special adoption fee of $75.
Breed:
Labrador Retriever mix
Sex:
Female
Estimated Birth Date:
08/23/2004
Weight:
50 pounds
Status:
Available
Add Date:
09/29/2015
Last Updated:
03/24/2016
Adopt Date:
03/26/2016
PPI#:
092915.2
Tag #:
2891
Foster:
POF
Adoption Fee:
$75
Likes Cats:
Unknown
Likes Dogs:
Yes
House trained:
Yes
Needs a pal:
Yes, seeking placement with her longtime companion Ruby
Likes kids under 5:
may be a problem due to her age
Likes over 5:
Yes
Kenneled:
No
Walks on a leash
Yes
Shares Toys With Humans:
Yes
Shares Toys With Other Animals:
Yes
Eats Nicely With Humans:
Yes
Eats Nicely With Other Animals:
Yes
Knows Basic Commands:
Yes, but always defers to shaking hands, her favorite!
Fence Needed:
Unknown
Fence Jumper:
No
Crate Trained:
Unknown
Energy Level (1-5):
2
Rides nicely in car:
Yes