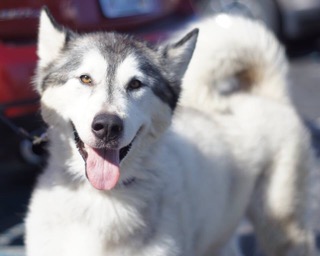 Luna is an absolutely stunning 4 year old Malamute who is looking for a laid back, loving home. She wants to be someone's best buddy. She loves long walks and going for car rides. She's perfectly happy chillin' on the couch or watching the world outside on the deck. She's fine with other dogs as long as they're not too, too crazy. She would also be better with kids who are over 5 because she's a big girl. (Hey, hey....no "big" girl slamming allowed!!) =) As typical to the breed, she can be a little stubborn. But, with the help of her incredible foster mom and dad, she's learning her manners and her place in a family. If you think that you can give her the home she needs, please submit the on line application found on our website. Then the foster mom can contact you to answer all of your questions and to set up a meeting with this glamour girl!
Special Notes:
Breed:
Malamute
Sex:
Female
Estimated Birth Date:
10/03/2011
Weight:
112 pounds
Status:
Available
Add Date:
10/01/2015
Last Updated:
01/16/2016
Adopt Date:
01/30/2016
PPI#:
100315.1
Tag #:
2858
Foster Name:
Barb and Jeff
Adoption Fee:
$150
Likes Cats:
Unknown
Likes Dogs:
Some
House trained:
Yes
Needs a pal:
No
Likes kids under 5:
Yes
Likes over 5:
Yes
Kenneled:
Yes
Walks on a leash
Yes
Shares Toys With Humans:
Yes
Shares Toys With Other Animals:
Unknown
Eats Nicely With Humans:
Yes
Eats Nicely With Other Animals:
Unknown
Knows Basic Commands:
Learning
Fence Needed:
Yes
Fence Jumper:
No
Crate Trained:
Yes, not needed
Energy Level (1-5):
2-3
Rides nicely in car:
Yes, loves them!