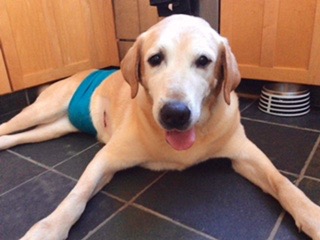 Kane is a gorgeous Yellow Lab mix of about seven years in age. He was found as a stray so we can only guess what his past was like. When I picked Kane up after his neuter, he was scared to get in the car and flattened his 90 lb body on the ground. I tried for about five minutes or so before giving up and seeking assistance from vet staff. Then when we got home, he was scared to go up five steps to get in my house. YIKES! I wondered then what the heck I got myself into. I'm happy to report after a week he goes up and down steps like he's done it his whole life. He also happily gets into the vehicle. Whew! Kane is not completely housebroken but he is getting much better. Knock on wood, he has not had any accidents for almost a week! His biggest issue was leg lifting and I think some of that was due to not being neutered. It's been two weeks since his surgery and I really have noticed less marking. I've been putting a belly band on him to protect my house and he leaves it on...doesn't seem to bother him in the least. The only thing that bothers Kane is being alone. He doesn't even like to be in a room by himself and follows me like it's his job. I'm hoping with some training and time, he'll feel more secure. Kane gets along great with my other three dogs and is friendly to other dogs we see on walks. He also loves people and is very gentle and sweet with children he's met. I don't have a cat but I can't imagine Kane being mean to anyone. He is a gentle giant. Kane is not a barker except when left alone. Again, I'm sure with training and time he'll be comfortable by himself. If you are interested in meeting or adopting Kane, please complete an online application.
Special Notes: Kane has a special adoption fee of $75.
Breed:
Labrador Retriever mix
Sex:
Male
Estimated Birth Date:
11/04/2008
Weight:
90 pounds
Status:
Available
Add Date:
10/21/2015
Last Updated:
02/27/2016
Adopt Date:
03/12/2016
PPI#:
110415.1r
Tag #:
####
Foster Name:
Connie D.
Adoption Fee:
$75
Likes Cats:
Unknown, but probably okay
Likes Dogs:
Yes
House trained:
Almost
Needs a pal:
Might like one
Likes kids under 5:
Yes
Likes over 5:
Yes
Kenneled:
Unknown
Walks on a leash
Yes
Shares Toys With Humans:
Yes
Shares Toys With Other Animals:
Yes
Eats Nicely With Humans:
Yes
Eats Nicely With Other Animals:
Yes
Knows Basic Commands:
Unknown
Fence Needed:
Unknown
Fence Jumper:
Unknown
Crate Trained:
Unknown
Energy Level (1-5):
3
Rides nicely in car:
Yes