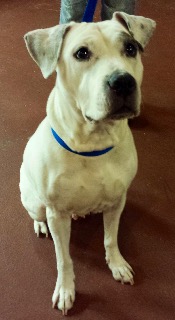 This is Shadow in a nutshell…..PERFECT! Shadow knows sit, down, shake, and come. She doesn't jump up on people. If she wants your attention, she will rest her chin on your knee and look at you with sad eyes. She is house trained and crate trained. She sleeps in her crate at night and is crated while we are at work, although she probably wouldn't need to be when she is used to her new home. She's a very laid back girl and loves to cuddle in our laps or next to us on the couch. She doesn't bark much but will "talk" for a treat or when she wants out with a "woo, woo". She has spent a week in a home with cats and was curious but then ignored them. She likes most dogs but if she's "bullied" by another dog she will defend herself. Shadow wants nothing more than love, food, shelter and exercise in her new forever home. If you are interested in meeting Shadow and learning more, please complete an application.
Special Notes:
Breed:
American Bulldog mix
Sex:
Female
Estimated Birth Date:
12/05/2012
Weight:
65 pounds
Status:
Available
Add Date:
12/05/2015
Last Updated:
07/24/2016
Adopt Date:
08/27/2016
PPI#:
121115.1
Tag #:
####
Foster Name:
Theresa G.
Adoption Fee:
$150
Likes Cats:
Unknown
Likes Dogs:
Yes
House trained:
Yes
Needs a pal:
No
Likes kids under 5:
Unknown
Likes over 5:
Yes
Kenneled:
Yes
Walks on a leash
Yes
Shares Toys With Humans:
Yes
Shares Toys With Other Animals:
Yes
Eats Nicely With Humans:
Yes
Eats Nicely With Other Animals:
Yes
Knows Basic Commands:
Yes
Fence Needed:
Yes
Fence Jumper:
No
Crate Trained:
Yes
Energy Level (1-5):
2
Rides nicely in car:
Yes