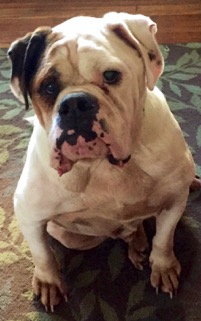 Heineken is a male Olde English Bulldog mix ready for his forever home. So far this mellow fellow is not a barker and is known for getting along with kids and dogs. Stay tuned for more information as we get to know him better! If you are interested in meeting or adopting Heineken, please complete an online application.
Special Notes:
Breed:
Olde English Bulldog mix
Sex:
Male
Estimated Birth Date:
01/02/2010
Weight:
55 pounds
Status:
Available
Add Date:
01/02/2016
Last Updated:
01/08/2016
Adopt Date:
01/17/2016
PPI#:
010216.1
Tag #:
####
Foster Name:
Lindsay A.
Adoption Fee:
$150
Likes Cats:
Unknown
Likes Dogs:
Yes
House trained:
Yes
Needs a pal:
No
Likes kids under 5:
Yes
Likes over 5:
Yes
Kenneled:
Unknown
Walks on a leash
Yes
Shares Toys With Humans:
Yes
Shares Toys With Other Animals:
Unknown
Eats Nicely With Humans:
Yes
Eats Nicely With Other Animals:
Unknown
Knows Basic Commands:
Unknown
Fence Needed:
No
Fence Jumper:
No
Crate Trained:
Yes
Energy Level (1-5):
1
Rides nicely in car:
Yes