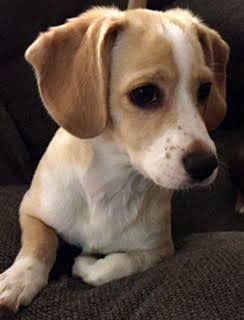 Twinkie is a sweet and adorable 4 month old Beagle/Dachshund mix puppy who loves to play. We expect that she will be on the smaller side when full grown. We aren't sure if she will grow into her ears or not, but we hope she doesn't since they are so floppy and cute. Twinkie loves her people and enjoys the older kids in the home. She gets along well with the dogs and ignores the cat. Her best friend is a Chihuahua who is the same size as Twinkie. She plays so nicely with him. She divides her time between running and playing and kissing and cuddling. As with all puppies, she will benefit greatly from socialization and training. If you are interested in meeting or adopting Twinkie, please complete an online application.
Special Notes:
Breed:
Beagle/Dachshund mix
Sex:
Female
Estimated Birth Date:
09/08/2015
Weight:
pounds
Status:
Available
Add Date:
01/08/2016
Last Updated:
01/13/2016
Adopt Date:
01/16/2016
PPI#:
010816.4
Tag #:
####
Foster Name:
Beth H.
Adoption Fee:
$200
Likes Cats:
Yes
Likes Dogs:
Yes
House trained:
No
Needs a pal:
No
Likes kids under 5:
Unknown
Likes over 5:
Yes
Kenneled:
Yes
Walks on a leash
Unknown
Shares Toys With Humans:
Yes
Shares Toys With Other Animals:
Yes
Eats Nicely With Humans:
Yes
Eats Nicely With Other Animals:
Yes
Knows Basic Commands:
No
Fence Needed:
Preferred
Fence Jumper:
No
Crate Trained:
No
Energy Level (1-5):
5
Rides nicely in car:
Yes, in a carrier