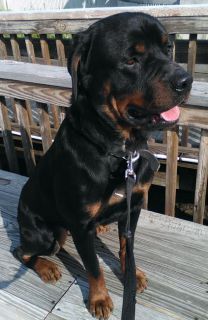 Sam is an approximately 2 year old male Rottweiler who loves to cuddle, and loves to play as well. He is learning to walk nicely on a leash and knows his basic commands. He gets along with most other dogs but can be a bit dominant. He has a relativity high prey drive and would require constant supervision with cats. He loves the toddlers in his foster home but doesn't realize how big he is so sometimes he knocks them down. He loves to run and play fetch in the backyard but settles down nicely inside. If you are interested in meeting or adopting Sam, please complete an online application.
Special Notes:
Breed:
Rottweiler
Sex:
Male
Estimated Birth Date:
01/11/2014
Weight:
92 pounds
Status:
Available
Add Date:
01/11/2016
Last Updated:
05/21/2016
Adopt Date:
05/28/2016
PPI#:
011116.2r
Tag #:
2818
Foster Name:
Melody
Adoption Fee:
$150
Likes Cats:
Needs supervision
Likes Dogs:
Yes
House trained:
Yes
Needs a pal:
Unknown
Likes kids under 5:
Yes, but doesn't know how big he is!
Likes over 5:
Yes
Kenneled:
Yes
Walks on a leash
Yes
Shares Toys With Humans:
Yes
Shares Toys With Other Animals:
Yes
Eats Nicely With Humans:
Yes
Eats Nicely With Other Animals:
Unknown
Knows Basic Commands:
Yes
Fence Needed:
Yes
Fence Jumper:
No
Crate Trained:
Yes
Energy Level (1-5):
3
Rides nicely in car:
Yes