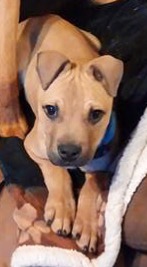 Seuss, sweet Seuss.... the perfect example of rescue before-and-after. When PPI pulled him from a local pound, he was so malnourished that we could see every single bone in his body. Someone had burned off his whiskers and had cut two of his nails down to the toe. We hoped that with loving care and the guidance of our vets, he would turn a corner quickly. And turn a corner he did!!! Seuss today is a 14 pound, 5 month old bundle of love, snuggles and confidence. He was initially labeled as a Chihuahua mix, but he's going to be bigger than that. While he's still definitely a puppy (maybe a few accidents in the house....but we're going to blame this darned weather!), full of endless energy and a chewing habit that sometimes forgets that those are mama's shoes, he's growing into a wonderful, loyal companion. After playing (and playing and playing) with the other dogs in his foster home, he'll quickly nestle into his foster mom so that he can cuddle. He loves riding in the car and, if you would let him, he'd help you with the driving. (No, Seuss, that's not safe!) He loves food and treats, and that will be a big plus because, as with all puppies, he'll need continued training. He'll jump right into his crate when foster mom leaves for work or goes to bed. However, we think that eventually he'll work his way into his new owner's bed.
Foster mom adores this little one. She says his antics are hilarious and calls him very special. If you are interested in meeting or adopting Seuss, please complete an online application.
Special Notes:
Breed:
Chihuahua mix
Sex:
Male
Estimated Birth Date:
08/21/2015
Weight:
pounds
Status:
Available
Add Date:
10/21/2015
Last Updated:
02/16/2016
Adopt Date:
02/27/2016
PPI#:
011316.1
Tag #:
3072
Foster Name:
Heather S.
Adoption Fee:
$200
Likes Cats:
Unknown
Likes Dogs:
Unknown
House trained:
Unknown
Needs a pal:
Unknown
Likes kids under 5:
Unknown
Likes over 5:
Unknown
Kenneled:
Unknown
Walks on a leash
Unknown
Shares Toys With Humans:
Unknown
Shares Toys With Other Animals:
Unknown
Eats Nicely With Humans:
Unknown
Eats Nicely With Other Animals:
Unknown
Knows Basic Commands:
Unknown
Fence Needed:
Unknown
Fence Jumper:
Unknown
Crate Trained:
Unknown
Energy Level (1-5):
Rides nicely in car:
Unknown