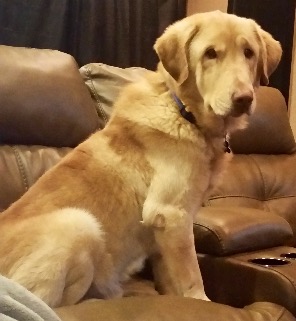 Hi, my name is Happy, and I am an adult male Lab/Golden Retriever mix new to the program. I always have a smile on my face. I love to be with my people and cuddle but I also enjoy my alone time just hanging out in my crate. I don't really care to be outside much at all but I am house trained. I enjoy peace and quiet. My foster mom says I would make a great addition to any home that is laid back and just into enjoying life. Because I can be shy and skiddish with a lot of activity, I would do best in a home with older kids. If you are interested in meeting or adopting Happy, please complete an online application.
Special Notes:
Breed:
Lab/Golden Retriever mix
Sex:
Male
Estimated Birth Date:
07/08/2011
Weight:
pounds
Status:
Available
Add Date:
01/15/2016
Last Updated:
01/21/2016
Adopt Date:
02/06/2016
PPI#:
011516.1
Tag #:
####
Foster Name:
Christine L.
Adoption Fee:
$150
Likes Cats:
Chases but not aggressive
Likes Dogs:
Yes
House trained:
Yes
Needs a pal:
No
Likes kids under 5:
No
Likes over 5:
Yes
Kenneled:
No, but can be
Walks on a leash
Working on it
Shares Toys With Humans:
Yes
Shares Toys With Other Animals:
Yes
Eats Nicely With Humans:
Yes
Eats Nicely With Other Animals:
Yes
Knows Basic Commands:
Working on it; knows sit
Fence Needed:
No
Fence Jumper:
No
Crate Trained:
Yes
Energy Level (1-5):
2
Rides nicely in car:
Yes