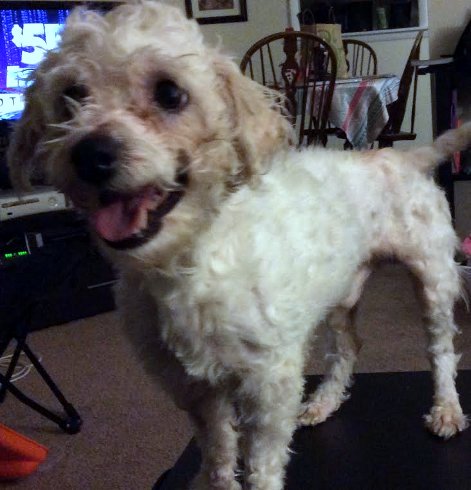 Hi, I'm Max! I know, I know, I'm so handsome! When Planned Pethood rescued me, I was very skinny and all covered in matted fur so they had to shave me, but I feel so much better now! I'm a 7 year old Bichon Frise mix. My foster mom says I would be the perfect lap dog. I'm not really an overly active dog, I prefer to spend my days lounging around on the couch with my foster mom. I love to be held and like riding in the car. There are two kitties in my foster home and while I like to whine at them and sniff them, I would never be mean to them. There is another dog in the house but I don't really seem to care that she is there so I would be fine with other dogs or by myself. My foster parents also have a toddler and while I do great with her, I think I would like a home that is a little more quiet as I tend to go in the other room when she gets loud. Overall, I am a sweet, snuggly little guy who is just looking for people to give my kisses to and cuddle with every night. If you are interested in meeting or adopting Max, please complete an online application.
Special Notes: Max has a special adoption fee of $75.
Breed:
Bichon Frise mix
Sex:
Male
Estimated Birth Date:
01/15/2008
Weight:
15 pounds
Status:
Available
Add Date:
01/15/2016
Last Updated:
01/28/2016
Adopt Date:
01/30/2016
PPI#:
012016.1
Tag #:
3046
Foster Name:
Jessica W.
Adoption Fee:
$75
Likes Cats:
Yes
Likes Dogs:
Yes
House trained:
Yes
Needs a pal:
No
Likes kids under 5:
Yes
Likes over 5:
Unknown
Kenneled:
Yes
Walks on a leash
Yes
Shares Toys With Humans:
Yes
Shares Toys With Other Animals:
Yes
Eats Nicely With Humans:
Yes
Eats Nicely With Other Animals:
Yes
Knows Basic Commands:
Learning
Fence Needed:
No
Fence Jumper:
No
Crate Trained:
Yes
Energy Level (1-5):
2
Rides nicely in car:
Yes