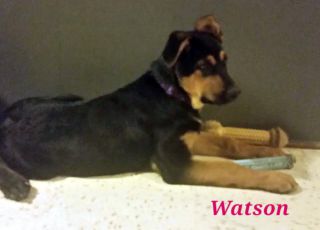 Hi, I'm Watson, a male German Shepherd mix puppy new to the program! I'm a big goofy puppy, that's what my foster mom tells me. I LOVE playing with other dogs, especially my foster brother Harvey...we play all day long. I'm a very smart boy who just loves everyone. I'm looking for that special home who will teach me new things and work with me since I'm going to be a big boy. If you are interested in meeting or adopting Watson, please complete an online application.
Special Notes:
Breed:
German Shepherd mix
Sex:
Male
Estimated Birth Date:
Weight:
30 pounds
Status:
Available
Add Date:
01/15/2016
Last Updated:
04/10/2016
Adopt Date:
04/17/2016
PPI#:
031716.2
Tag #:
2814
Foster Name:
Missie J.
Adoption Fee:
$200
Likes Cats:
Yes
Likes Dogs:
Yes
House trained:
Working on it
Needs a pal:
Preferred; he needs a buddy!
Likes kids under 5:
No
Likes over 5:
Yes
Kenneled:
Unknown
Walks on a leash
Working on it
Shares Toys With Humans:
Yes
Shares Toys With Other Animals:
Yes
Eats Nicely With Humans:
Unknown
Eats Nicely With Other Animals:
Unknown
Knows Basic Commands:
Knows sit and down
Fence Needed:
Required; no electric fence
Fence Jumper:
Unknown
Crate Trained:
Unknown
Energy Level (1-5):
4
Rides nicely in car:
Does okay