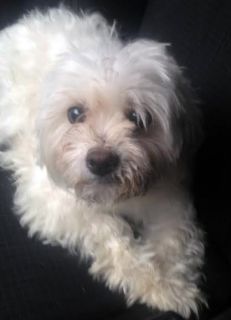 Bailey is a nine-year-old female Maltese mix who is relatively new to the program. Her foster family is still learning about her. She's very shy, and she tends to take a little bit to warm up to new people, but once she does, she is a cuddle bug. Until she gets to know you, she likes to play "catch me if you can," running around in circles seems to be her thing. We're working on the potty training, she's improving each day. She needs a patient family that is willing to shower her with love. If you are interested in meeting or adopting Bailey, please feel out an online application.
Special Notes: Bailey has a special adoption fee of $75.
Breed:
Maltese mix
Sex:
Female
Estimated Birth Date:
10/10/2009
Weight:
8 pounds
Status:
Available
Add Date:
03/10/2016
Last Updated:
04/08/2016
Adopt Date:
04/16/2016
PPI#:
032816.1
Tag #:
3020
Foster Name:
Sherry J.
Adoption Fee:
$75
Likes Cats:
Unknown, probably yes
Likes Dogs:
Yes
House trained:
Working on it
Needs a pal:
Not really
Likes kids under 5:
Yes
Likes over 5:
Yes
Kenneled:
Doesn't like to be
Walks on a leash
Yes
Shares Toys With Humans:
Doesn't really play with toys
Shares Toys With Other Animals:
Doesn't really play with toys
Eats Nicely With Humans:
Yes
Eats Nicely With Other Animals:
Yes
Knows Basic Commands:
Yes
Fence Needed:
Not really
Fence Jumper:
No
Crate Trained:
Working on it
Energy Level (1-5):
2
Rides nicely in car:
Yes