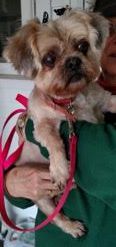 Jewels is a very sweet 10 year old 13 lb. Shih Tzu. She is visually impaired but gets around very well. She learned the layout of my home on the first day. She gets along great with the dogs and cats in her foster home. She is housebroken but due to her size and age needs to go out regularly. She will bark when she wants out or just wants to know where you are. She loves to snuggle, sleep in late and chew on dog-safe bones. She is all vetted including a dental where she had 12 teeth pulled. I put warm water on her food to soften it a little and she has no problems with that. She does require drops in her eyes daily to moisten them. It is an over the counter drop, very inexpensive. She is a very independent little girl with a confident personality. She does not know a stranger and loves everyone. Her foster lives out of town and is not always at the events, but if you want to meet Jewels we will make sure she is there. If you are interested in meeting or adopting Jewels, please complete an online application.
Special Notes: Jewels has a special adoption fee of $75.
Breed:
Shih Tzu
Sex:
Female
Estimated Birth Date:
03/19/2006
Weight:
13.4 pounds
Status:
Available
Add Date:
03/19/2016
Last Updated:
04/14/2016
Adopt Date:
04/23/2016
PPI#:
040816.1
Tag #:
####
Foster Name:
Deb N.
Adoption Fee:
$75
Likes Cats:
Yes
Likes Dogs:
Yes
House trained:
Yes
Needs a pal:
Unknown
Likes kids under 5:
Unknown
Likes over 5:
Unknown
Kenneled:
Unknown
Walks on a leash
Unknown
Shares Toys With Humans:
Unknown
Shares Toys With Other Animals:
Unknown
Eats Nicely With Humans:
Unknown
Eats Nicely With Other Animals:
Unknown
Knows Basic Commands:
Unknown
Fence Needed:
Unknown
Fence Jumper:
Unknown
Crate Trained:
Unknown
Energy Level (1-5):
2-3
Rides nicely in car:
Unknown