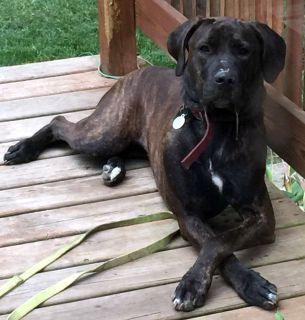 Haley is a 1.5 year old female Great Dane/Mastiff mix new to Planned Pethood. Haley is a very sweet girl and will benefit with a family or couple willing to take her to training. She is a very smart lady! Haley loves her people and loves to cuddle. If you are interested in meeting or adopting Haley, please complete an online application.
Special Notes:
Breed:
Great Dane/Mastiff mix
Sex:
Female
Estimated Birth Date:
10/21/2014
Weight:
80 pounds
Status:
Available
Add Date:
04/15/2016
Last Updated:
06/15/2016
Adopt Date:
07/01/2016
PPI#:
042116.1
Tag #:
3428
Foster Name:
Kristen C.
Adoption Fee:
$150
Likes Cats:
Unknown
Likes Dogs:
No, happiest on her own
House trained:
Yes
Needs a pal:
No
Likes kids under 5:
No, due to her size
Likes over 5:
Yes
Kenneled:
Yes
Walks on a leash
Needs work
Shares Toys With Humans:
Yes
Shares Toys With Other Animals:
No
Eats Nicely With Humans:
Yes
Eats Nicely With Other Animals:
No
Knows Basic Commands:
Sit, shake
Fence Needed:
Preferred
Fence Jumper:
No
Crate Trained:
Yes
Energy Level (1-5):
4-5
Rides nicely in car:
Yes