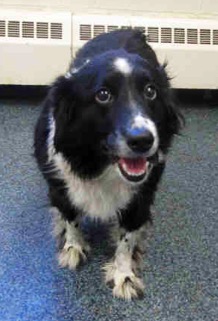 Lizzy is a 9 year old Border Collie mix. She loves people and gets along great with the dogs in her foster home. She even tries to play with the kitties. She rides great in the car and loves to go for rides. She likes chasing the ball in the backyard. She has free run of the house because she does not get into anything. Lizzie is fearful when she gets out of her comfort zone such as going to new places so we are working on that. If you would like to know more about this sweet girl, fill out an application and I will contact you and be happy to tell you all about her! If you are interested in meeting or adopting Lizzie, please complete an online application.
Special Notes: Lizzie has a special adoption fee of $75.
Breed:
Border Collie/Sheltie mix
Sex:
Female
Estimated Birth Date:
04/28/2007
Weight:
49.4 pounds
Status:
Available
Add Date:
04/29/2016
Last Updated:
08/24/2016
Adopt Date:
10/10/2016
PPI#:
042916.1
Tag #:
3024
Foster Name:
Deb N.
Adoption Fee:
$75
Likes Cats:
Yes
Likes Dogs:
Yes
House trained:
Yes
Needs a pal:
Unknown
Likes kids under 5:
Unknown
Likes over 5:
Unknown
Kenneled:
Not needed
Walks on a leash
Unknown
Shares Toys With Humans:
Unknown
Shares Toys With Other Animals:
Unknown
Eats Nicely With Humans:
Unknown
Eats Nicely With Other Animals:
Unknown
Knows Basic Commands:
Unknown
Fence Needed:
Unknown
Fence Jumper:
Unknown
Crate Trained:
Not needed
Energy Level (1-5):
3
Rides nicely in car:
Yes