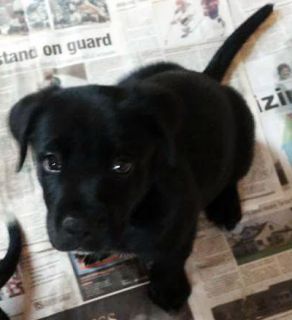 The "O" puppies are Labrador Retriever mixes born on March 8, 2016. They have grown quickly and are ready for their forever homes! Like all puppies, they will benefit from consistent, patient training to help them become great family dogs. If you are interested in meeting or adopting Owen, please complete an online application.
Special Notes:
Breed:
Labrador Retriever mix
Sex:
Male
Estimated Birth Date:
03/08/2016
Weight:
15.4 pounds
Status:
Available
Add Date:
03/08/2016
Last Updated:
05/09/2016
Adopt Date:
05/21/2016
PPI#:
050316.5
Tag #:
3423
Foster Name:
Jessica R.
Adoption Fee:
$200
Likes Cats:
Unknown
Likes Dogs:
Unknown
House trained:
Unknown
Needs a pal:
Unknown
Likes kids under 5:
Unknown
Likes over 5:
Unknown
Kenneled:
Unknown
Walks on a leash
Unknown
Shares Toys With Humans:
Unknown
Shares Toys With Other Animals:
Unknown
Eats Nicely With Humans:
Unknown
Eats Nicely With Other Animals:
Unknown
Knows Basic Commands:
Unknown
Fence Needed:
Unknown
Fence Jumper:
Unknown
Crate Trained:
Unknown
Energy Level (1-5):
Rides nicely in car:
Unknown