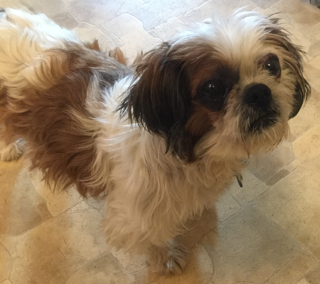 Boo is a 14 lb. adult male Shih Tzu ready to meet his forever family. Boo loves to be held, cuddled, and petted! He sleeps soundly at night and doesn't bark unless someone is at the door. He doesn't dig or chew things in the house. Boo is currently on steroids for a past infection, and may require medication for the rest of his life. If you are interested in meeting or adopting Boo, please complete an online application.
Special Notes: Boo has a special adoption fee of $75.
Breed:
Shih Tzu
Sex:
Male
Estimated Birth Date:
03/13/2013
Weight:
14 pounds
Status:
Available
Add Date:
03/13/2016
Last Updated:
06/27/2016
Adopt Date:
07/08/2016
PPI#:
031316.1
Tag #:
3245
Foster Name:
Karen A.
Adoption Fee:
$175
Likes Cats:
Yes
Likes Dogs:
Yes
House trained:
Yes
Needs a pal:
Unknown
Likes kids under 5:
Yes
Likes over 5:
Yes
Kenneled:
Unknown
Walks on a leash
Yes
Shares Toys With Humans:
Yes
Shares Toys With Other Animals:
Yes
Eats Nicely With Humans:
Yes
Eats Nicely With Other Animals:
Yes
Knows Basic Commands:
Unknown
Fence Needed:
No
Fence Jumper:
No
Crate Trained:
Unknown
Energy Level (1-5):
2-3
Rides nicely in car:
Yes