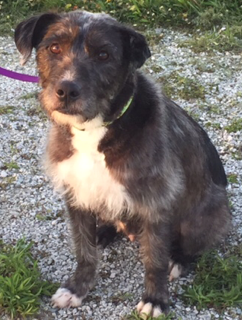 Hi, my name is Penelope and I have been out of the pound for one month. I was a owner surrender. I am young, about a year or year and a half old, and I weigh about 35 pounds. They say I am part Schnauzer mix. All I know is that everyone says I have a beautiful fur coat! I like to sleep, chew on bones or dog toys, snuggle on the couch with my people, and I am learning to go in a crate during the day while my foster parent goes to work. I'm not very excited to go in the crate but I am quiet and sleep well in it. Foster mom says I need to find a home that will take me to classes so that I can learn basic commands so I can be safe and be a happy dog in my new home. If you are interested in meeting me, please fill out an application and my foster mom will get back to you with more about me. Love, Penelope.
Special Notes:
Breed:
Schnauzer/Terrier mix
Sex:
Female
Estimated Birth Date:
Weight:
38.9 pounds
Status:
Available
Add Date:
04/22/2016
Last Updated:
06/01/2016
Adopt Date:
07/01/2016
PPI#:
052616.3
Tag #:
3314
Foster Name:
Lisa B.
Adoption Fee:
$150
Likes Cats:
Unknown
Likes Dogs:
Yes
House trained:
Almost
Needs a pal:
No
Likes kids under 5:
Yes
Likes over 5:
Yes
Kenneled:
Yes
Walks on a leash
Yes
Shares Toys With Humans:
Yes
Shares Toys With Other Animals:
No
Eats Nicely With Humans:
Yes
Eats Nicely With Other Animals:
Tries to steal their food
Knows Basic Commands:
Yes
Fence Needed:
Yes
Fence Jumper:
No
Crate Trained:
Yes
Energy Level (1-5):
4
Rides nicely in car:
Working on this